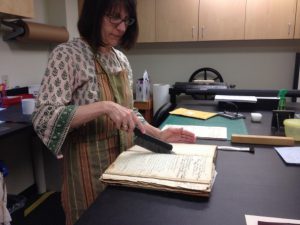 I started at NEHGS as a volunteer, coming in every Friday for about four hours. My first project involved checking the transcriptions of the names that other volunteers had made against other sources to help decipher some of the names. Often this involved me running up to the fifth floor, where the local histories are kept, or 7, where the genealogies are, to check spellings. After a few weeks I was familiar enough with the handwriting that I did not have to go use outside sources to verify the transcription. Not long afterwards, I began scanning a manuscript for Special Collections and then, as I was in library school at the time, working with actual collections and providing additional details for finding aids.
As I wrote in my first blog post, Adding Context to My Genealogy, much of my paternal ancestry has already been worked out and is available in journals and books, so when I began researching my family, I focused on my maternal ancestry, which is more recent, and confined mostly to Connecticut. That limited my exposure to most of the resources NEHGS offered at the time, but when I started as a researcher here I began to answer a lot more questions about ancestors who spent time in other parts of New England and New York, which meant I had to get acquainted with our resources for those areas.
The dedication that some of our volunteers demonstrate towards the Society never ceases to amaze me.
Even though I had been a volunteer, I had no idea about the amount of work that other volunteers had put into the resources that NEHGS offers. This is not just limited to the databases, but includes the books and materials used by conservation and Special Collections volunteers. The dedication that some of our volunteers demonstrate towards the Society never ceases to amaze me. In my six-plus years at NEHGS, I have seen a lot of volunteers working on the fourth floor, especially since the Catholic Archdiocese of Boston church records digitization began, and I could probably set a watch by some of the volunteers who come in.
To me genealogical and historical volunteers are the unsung heroes of the historical community. How much harder would our research be if places like NEHGS didn't have volunteers helping to create content that can be accessed from home? How much local history would be lost if a group of volunteers hadn't gotten together to establish a historical society? So, from a researcher who benefits from the work of volunteers, to all the volunteers who do the work: I want to say thank you for all that you do.