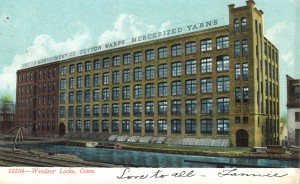 I could easily go up to the seventh floor here at NEHGS and find a lot of my ancestry in published genealogies, but my research interests have gone in a different direction: I have spent close to the last six years researching the branches of my Italian family in Windsor Locks, Connecticut, and writing a genealogy that traces all of the descendants of the earliest generation.
Windsor Locks was a mill town, and some early family members worked in the mills that lined the banks of the canal. They weren't the wealthiest people, but some of them owned their own homes and other property. As I began writing, I found that I wanted to provide information on their lives beyond stating facts from a census and other official records. I began to wonder how to focus on the individuals, providing context for their lives without being overly repetitive. From census records I can say that they were mill workers, but in the early 1900s what did that mean for people living in Windsor Locks?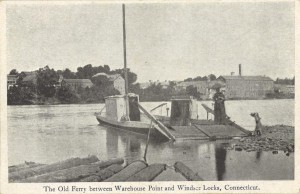 I realized the solution to my problem was to include a brief history of the Windsor Locks mills along with my genealogy. For example, Connecticut published a report that provides the names of some of the mills in Windsor Locks, what they produced, and describing the general condition of the state's mills. The report even says that there was one mill in Windsor Locks that provided work to people that could be performed at home – and it gives descriptions of that mill work. From a newspaper article, I know that in 1903 the J. R. Montgomery Co. fired thirty workers because the president and general manager thought the union was making unreasonable demands; a union leader replied that the group had as yet made no demands of the company.  I may not be able to determine if any of my family members did work at home or were part of the group that was fired, but I can provide information like that in the history to suggest the issues they faced in their professional lives.
By stepping back from focusing on the individuals and their families, and showing what life was like for them in their community, I am able to provide more than just simple facts about my family. Right now I am still gathering information on both my family and the town, but I can already see the potential for this project to provide greater context than I have seen in other, similar histories of Windsor Locks.