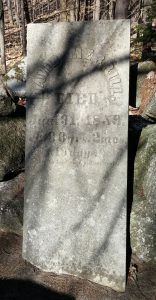 Alicia Crane Williams's post earlier this week – about when an incorrect item was "published in a book" – is quite fresh in my mind as I contemplate a current genealogical problem. Last week I wrote about Gary Boyd Roberts's research on a distant kinship between Meghan Markle and Prince Harry of Wales. There are several parts of Markle's American ancestry that a group of us (including Gary and several genealogical colleagues) has been looking into, but the one that keeps coming up regards Meghan Markle's great-great-great-great-grandfather David Merrill (1768–1859) of Holderness, New Hampshire.[1]
Numerous online trees claim that David Merrill was the son of Jacob Merrill and Elizabeth Wyatt, and this claim is even "published in a book": The Makers of the Sacred Harp (Champaign, Ill., 2010):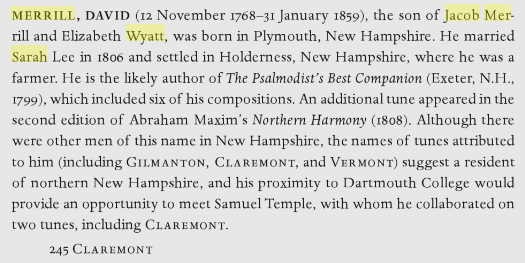 So are these Jacob's parents? Let's see what else we can find. David Merrill's death certificate (from which his calculated date of birth derives, as well as his gravestone above), does state he was born in Plymouth, but does not provide parents, and it says his father was also born in Plymouth (which would be unlikely, since the town was only incorporated in 1763). Meredith, N.H. Annals and Genealogies (1932), p. 319, says "David Merrill was a descendant of the Salisbury, Mass., branch. He settled in Holderness on what is now called the 'Webster Eastman farm.' He was a son of Jacob Lee Merrill (as tradition) of Plymouth, who purchased land in Campton, north of Baker's River." Aside from the unlikelihood that David's father would have a middle name (and also since Lee is the maiden name of David's wife), David did name one of his sons Jacob, so perhaps David does belong to this Plymouth couple. Let's see what else is there.
A Merrill Memorial (Cambridge, Mass., 1917–28) part 2, pp. 360–61, profiles Jacob Merrill of Plymouth, New Hampshire (who was born in Salisbury, Massachusetts), and lists thirteen children born between 1763 and 1782, including a son Daniel who was killed by a falling tree at age 11. Yet there is no David! Further, there are twins born 16 October 1767 and another child born 5 October 1769. If Jacob's calculated birth date of 12 November 1768 were correct, he would have been born thirteen months after and eleven months before his older and younger siblings respectively. While that is still possible, it raises questions. Still, the date of birth could be incorrect and this would not be the first time a genealogy missed a child. What else can we find?
Jacob Merrill died 19 September 1812 and left a very detailed will. He names his wife Elizabeth and specifically lists all twelve surviving children, one of by one, and then summarizes them again towards the end:

As you can see there is no David, and these are the same twelve children as indicated in the Merrill Memorial. While there are instances of one child being left out of a will, this is pretty strong evidence that David Merrill was not a son of Jacob and Elizabeth (Wyatt) Merrill.
Could David Merrill somehow be related to Jacob Merrill of Plymouth? Sure. I have looked at Jacob's siblings – two moved to Maine and one stayed in Essex County, Massachusetts – and none have sons named David. Perhaps David was a nephew who moved to where his uncle had settled, but, at this point, I have not found any records. While the Merrill ancestry of Jacob and Elizabeth might be attractive for some (there are two more royal lines), the only thing I can sure of right now is that David Merrill of Holderness, New Hampshire, was almost certainly not a son of Jacob and Elizabeth. Perhaps one of our readers has found the missing document!
Note
[1] David is the father of Jacob Lee Merrill, husband of Mary Hussey Smith, shown on the chart here).