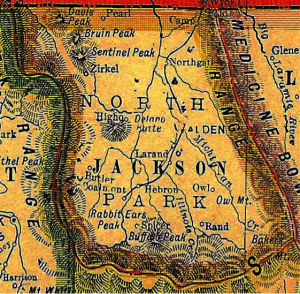 The death of my great-great-grandfather John E. Lee, and the circumstances surrounding it, has always fascinated me. His demise is still somewhat shrouded in mystery. Born in Michigan in 1843, John served in the Civil War, afterwards moving west with his wife Lucy and their children to the "North Park" area of Colorado.[1] It was here in the mid-1870s that John and Lucy homesteaded, near the icy waters of the Michigan River, with John earning his living off the land as a skilled hunter and trapper.
Something of a Colorado "mountain man," John Lee would go on to become an intrinsic part of North Park's local folklore: "I remember John Lee taking out 97 antelope in one trip. He got stuck with his load on the sand hill south of Pinkhamton, unloaded part of his load, pulled up the hill and carried the ones he had unloaded up the hill, loaded them up and went on. I remember John Lee as a large powerful man."[2]
(Note to self: Can this man really be related to me?)
John's death, late in the morning of 25 May 1885, stunned a lot of people. Only 42 years old at the time, and apparently in robust health, it seemed unusual that coroner C.H. Marsh would rule Lee's cause of death to be from heart disease. Prior to Coroner Marsh's ruling, speculation had stirred a further question: Had John Lee been poisoned? Newspaper accounts of Lee's death attempted to retrace his steps that day, noting that he had eaten at a local ranch and, further, that Lee had mailed a letter to an attorney in which he noted that there were those out there (related to John's business interests) who "wished to do him harm."[3] With this background to the case, Coroner Marsh was summoned to make an official ruling on Lee's death.
[It] might have been harder for Lee to avoid the flowering Death Camas.
Reading the accounts of my great-great-grandfather's death bring up many of the same questions "North Parkers" must have asked in May of 1885. Beginning with the statement that Lee had "eaten at a local ranch," I have looked at possible natural poisons John Lee might have come into contact with that day. I believe that Lee would have been too savvy to ingest any of the better-known natural poisons like larkspur, lupine, or even hemlock. But it might have been harder for Lee to avoid the flowering Death Camas.[4] It's said to resemble wild onions, and it is conceivable that Lee may have unknowingly ingested Camas bulbs as part of a "stew" on his last day. However the accounts do not show where anyone other than Lee is reported to have fallen ill that day.
Lee's contention that there were those who "wished to harm him" is an interesting one, and while it is noted in the accounts that he refers to these people as a part of his business concerns, it's unlikely that any one of them would choose to harm Lee by using poison in preference to an old-fashioned six-shooter. No, it is more likely that any enemies of Lee's (in business matters) would have wanted to force him into an honest (or a dishonest) bankruptcy. Poison, even by means of the Death Camas, seems a bit out of the norm for those rough and ready Western times. So through all of this I have wondered, Could there be a third possibility?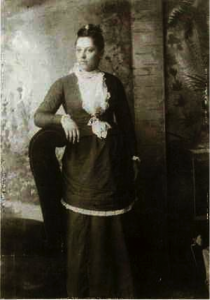 After Coroner Marsh's visit, the rumors of poison must have died down, and any enemies of Lee's business concerns must have moved on. Indeed, everyone must have "moved on," including John's widow, Lucy Lee. Indeed, is Lucy Lee herself the "third possibility?" Consider this: In the Colorado State Census of June 1885, John's widow Lucy has "taken up with" one Dr. George Bassett, a nearby physician. Keep in mind her husband had just died on 25 May 1885, and that she is enumerated with Dr. Bassett just one month later.[5] Who better to have access to the poisons of the day causing death, the ability to hide it, or who better to dissuade a coroner's finding other than a physician? Indeed, who are other parties who might have wished to do him harm? Isn't it often said that the spouse is always a person of interest?
Notes
[1] In 1874, "North Park" was claimed by both Summit/Grand Counties and by Larimer County. In 1886 the Colorado Supreme Court ruled that North Park was a part of Larimer County – that is until 1909, when Jackson County was formed. See: visitnorthparkco.com
[2] "Early Days in North Park, Colorado – as told by T. John Payne to James R. Harvey," Colorado Magazine 14: 6 [1937] has a brief biography of John E. Lee.
[3] Quoting Fort Collins Courier, 23 July 1885.
[4] R. Scott Rappold, 6 Poisonous Plants to Avoid in Colorado, outtherecolorado.com, 24 May 2017.
[5] The date of death for John E. Lee varies from 25 May to 25 June 1885. The May death is reported (and used here as the correct date) in the affidavits of his daughter in John Lee's Civil War pension file.