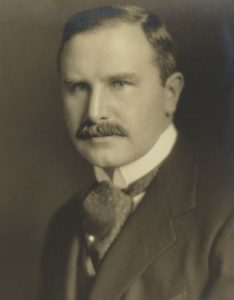 The name Campbell has been a favored first or middle name in the Steward family for the last 170 years; before that it passed down in the White family of Baltimore and New York, where it was still recently in use. It was my great-great-great-grandfather Campbell Patrick White (1787–1859) who seems to have been the first to bear the name as a first name, and perhaps it was his father, Dr. John Campbell White (1757?–1847), who was the first White with the Campbell middle name.[1]
So the Campbells had a name with which to conjure, and according to a nineteenth-century cousin it was thanks to the marriage of Dr. White's parents, the Rev. Robert White and Jane Thompson, that the name entered the White family. Jane and Robert were cousins, but it was Jane who was "the aunt of Sir John Campbell, Lieutenant General of the Isle of Jersey, and a connection of John Campbell the great Duke of Argyle."
Setting aside the curious feature of this connection – the name Campbell is favored because of the future prominence of Sir John Campbell, or perhaps the "great Duke of Argyle"'s fame still lingered in the 1750s – just which Sir John Campbell of Jersey is meant? No combination of "Sir John Campbell," "Jersey," or "Lieutenant General" seems to coalesce into an eighteenth-century person, and Wikipedia's list of Jersey Lieutenant Governors offers only an Archibald Campbell of Inverneill (1774–1838).
No combination of "Sir John Campbell," "Jersey," or "Lieutenant General" seems to coalesce into an eighteenth-century person…
The Rev. Robert White[2] appears with some frequency in accounts of the pupils who attended his school in Templepatrick,[3] near Antrim and not far from the port of Londonderry. Dr. S. M. Stephenson's history of the parish of Templepatrick[4] includes this account:
"He was learned in all the arts and sciences, and was an excellent scripturean divine… His great desire was to instruct and improve youth: for this purpose he regularly visited private families every second year, and called public examinations of the children every second year; and from the examination of children, he took opportunity of lecturing upon the questions he asked youth, and of explaining any difficulty that might occur from the answers, or from different important passages of scripture alluded to in it…
"Although his constitution was delicate, he devoted his time to study and attendance on his people. He lived in his congregation seventeen years: he died of a consumption of the lungs, in 1772, esteemed by all who had the pleasure of his acquaintance; particularly by his congregation, which he left increased, improved, and respectable."
While I seem no closer to an answer on how the Campbells fit in with the Whites, I recently came across the following tantalizing advertisement, one which seems to connect the Whites of Larne (and Templepatrick) with a Thompson family in Londonderry. It is dated about a year after Robert White's death; perhaps the Robert White mentioned is an elder brother of my John Campbell White:
For Baltimore in Maryland
The Ship Prince of Wales, Thomas Morrison, Master, Burthen 350 Tons, remarkably well calculated for the Accomodation of Passengers, being very high between Decks, will sail for the Port aforesaid on the first Day of July next. Those who chuse to embrace the favourable oppertunity as Passengers, Servants or Redemptioners are desired to apply to Mr. James Thompson of Londonderry, Merchant, or the Captain, who will agree with them on the most reasonable Terms. Captain Morrison's long experiance in the trade, his good success and humane Treatment to his Passengers, makes it unnessessary to say any more in his favour, than to assure those who do apply, that they may depend on the best Usage.
Londonderry, 1st June, 1773.
N.B. Any Person consignious to Larne, Belfast, Antrim, Ballymena or Glenarm, are desired to apply to Mr. Robert White, who is now at Larne, and sails Mate in said Ship, who will agree with them on reasonable Terms.
This advertisement suggests an existing connection between the Whites in Larne, the Thompsons in Londonderry, and Baltimore in Maryland, a connection that Dr. John Campbell White would exploit in 1798, when a foreign port would have been attractive to a man implicated in the Irish Rebellion!
Notes
[1] I have the faint recollection of an earlier John Campbell White, likely an uncle of Dr. White, whose existence was memorialized in the flyleaf of a family Bible with the date 1725.
[2] A native of Larne, Antrim, near Templepatrick.
[3] See, for instance, this biography of William Steel Dickson (1744–1824), a leading figure of the Irish Rebellion.
[4] S. M. Stephenson, M.D., A Historical Essay on the Parish and Congregation of Templepatrick… (Belfast: Joseph Smith, 1825), 45–46.