[This series on royal cartes de visite began here.]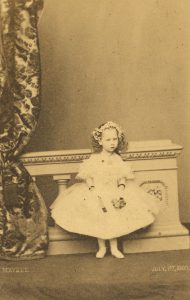 Prince Albert of Saxe-Coburg-Gotha was created Prince Consort in 1857, the year his youngest child – Princess Beatrice – was born. When the Prince Consort died in 1861, his eldest child (the Crown Princess of Prussia) was just 21, while Beatrice (shown here in 1860) was four years old.
For the younger children of Queen Victoria and Prince Albert, their father receded from life and into legend. The mercurial Beatrice, an enchanting child, became a stately matron in her mother's mold; her elder brother Arthur achieved distinction in the Army, while Leopold – who inherited his mother's family's strain of hemophilia – died young; Helena and Louise, so similar as young women, grew up to take different paths.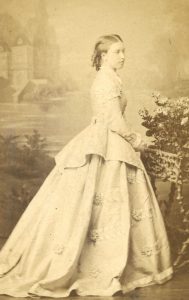 Queen Victoria's fifth child was Princess Helena, like Alice and Alfred given a first name not recently used in the royal family. (Princess Helena was named for Prince Albert's cousin the Duchess of Orléans.) The Queen, having married her eldest daughter advantageously (and abroad), now favored sons-in-law who would live with her at Windsor. Prince Christian of Schleswig-Holstein-Sonderburg-Augustenburg, much older than Helena and himself a younger son, proved an appealing choice for daughter as well as mother.[1]
Princess Louise,[2] the sixth child and fourth daughter of Victoria and Albert, was the first member of the Queen's family in three generations to marry (with the monarch's permission) outside the established royal houses of Europe. Her husband, the heir of the Duke of Argyll, was about as grand a subject of the Queen as could be imagined, and, in fact, the marriage was not a particularly happy or successful one – but it was a precedent that could be cited in future.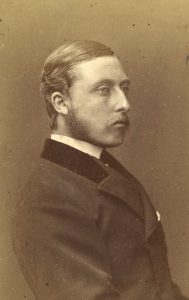 The third son and seventh child of the royal couple was named for his godfather, the Duke of Wellington, and like Wellington his future lay in the Army. During the reign of his nephew, King George V, the Duke of Connaught followed in his brother-in-law's footsteps and served as Governor-General of Canada.[3] His elder daughter married the Crown Prince of Sweden; his son, Prince Arthur, married Princess Alexandra, Duchess of Fife in her own right, the granddaughter of King Edward VII.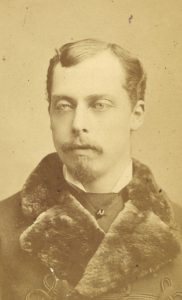 Prince Leopold's illness overshadowed his life; he died at the age of thirty.[4] For all that, he was considered the most brilliant of the Queen's sons, and, therefore, something of a danger within the royal household. Queen Victoria felt passionately about all her children, none of whom enjoyed easy relationships with their mother, and much as she worried about Leopold's fragility she was by no means a pushover where he was concerned.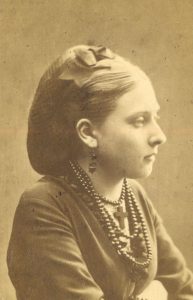 Princess Beatrice was the ninth and last of her parents' children. As a precocious child she amused the royal household in the years before her father's death; thereafter she dwelled in the gloom of her mother's perpetual mourning. She was not intended to marry: Queen Victoria had decided she disliked sharing her daughters with their husbands, and hoped to keep "the baby" at home with her. (This was not quite a selfish as it sounds – or, at least, there was ample precedent for families keeping their unmarried daughters at home to assist in domestic duties.)
Beatrice escaped that fate by marrying into one of the most attractive semi-royal houses of the period – the Battenbergs, children of Prince Alexander of Hesse (the uncle of Princess Alice's widower the Grand Duke of Hesse) and his morganatic wife Julie von Hauke, Princess of Battenberg. Princess Victoria of Hesse had already married Prince Louis of Battenberg; another one of Beatrice's nieces hoped to marry the Prince of Bulgaria, Louis's brother. Beatrice married Prince Henry of Battenberg, yet another brother, who proved to be just the son-in-law for whom the Queen had been searching.
An 1897 family tree showing the royal family at that date may be seen here.
Continued here.
Notes
[1] Prince Christian's brother, the Duke of Schleswig-Holstein-Sonderburg-Augustenburg, married Queen Victoria's half-sister's daughter, Princess Adelaide of Hohenlohe-Langenburg; he was also a loser in a dynastic struggle between the Princess of Wales's father, the King of Denmark, and the King of Prussia – father-in-law of the Princess Royal. A generation later, the Duke and Duchess of Augustenburg's daughter Augusta Victoria married the Princess Royal's son, William, the future Kaiser Wilhelm II.
[2] While the Princess Royal's names included Louisa, this Princess Louise was named for her paternal grandmother, Princess Louise of Saxe-Gotha-Altenburg, the heiress of Gotha, who had died when Prince Albert was a child.
[3] As Marquess of Lorne, the 9th Duke of Argyll served as Governor-General 1878–83; the Duke of Connaught and Strathearn held the post 1911–16.
[4] His posthumous son, named for the Young Pretender, succeeded as Duke of Albany at birth. Following the death of the Hereditary Prince of Saxe-Coburg-Gotha, and with the Duke of Connaught's renunciation for himself and his son Prince Arthur, Charles Edward became the last reigning Duke of Saxe-Coburg-Gotha. His daughter married her cousin, the Duke of Västerbotten, and became the mother of King Carl XVI Gustaf of Sweden.