In the summer of 1970 I was witness to a ritual that had eluded parts of my family for more than one hundred years. This ritual was the graveside service for my great-grandmother Mary Elizabeth (Kraus) Ogle (1886–1970) in a designated or an "ancestral" family burying ground.[i] By this late date, most of my family had revolted against the idea of "family plots," preferring instead their own unique nomadic burials during the nineteenth-century westward expansion, or, perhaps later, in efforts to escape the Dust Bowl of the 1930s.
There were a lot of reasons for this line of thought. For my ancestors, death was an unwelcome tradesman who stowed away on board the wagon trains affording little opportunity for anyone's return ticket home. It wasn't practical or affordable, and in the earliest of years it wasn't even possible. No, it was just easier to simply honor our loved ones in the place where they had taken their last breath and then literally move on.
The funeral of my great-grandmother that summer provided a reversal or a turning point in that custom. While Mrs. Ogle's time on this earth had been humble, her funerals were not. Passing away in Long Beach, California, she was given perfunctory funeral services there, but her remains were then flown back to Kansas for a more formal "showcasing" of her life's events. In Kansas, a florid funeral service ensued along with the summer's heat. As a very young man I remember being somewhat confused by her two funerals – an obligatory West Coast stint and an American heartland ritual.
       "Breathing seemed harder in the cemetery and selfish somehow…" – Sheri Webber
A few years later, while visiting that same Kansas cemetery, my grandmother Katheryn Ogle Record alluded to the idea that her mother had purchased adjacent plots so that "no one in the family should ever have to worry after a place to be buried."[ii]
Years would pass with my grandmother's words about family cemetery plots echoing in the far corners of my mind. By the mid-1990s I began to wonder if there wasn't something to the idea of "family" cemetery plots back in Kansas?
I began to ask about any "family" cemetery plots. No one knew anything. The family was still practicing their proud old ritual of being interred where they died, so it really didn't seem to matter if there were any "lost" plots in Kansas. I decided to contact the local cemetery authority for the city of Paola, Kansas. I would put this rumor in my head of a family burying ground "to rest" once and for all.
The Paola City Cemetery replied with polite speed. Yes, after my great-grandfather Daniel S. Ogle had died in 1932 my great-grandmother had purchased a plot for herself and seven additional plots adjacent to the Ogles. They would be happy to provide me with "proof of purchase" and information of the plots themselves.[iii][iv]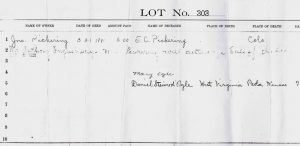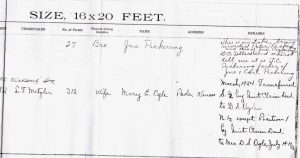 I inquired how I might go about claiming these plots on behalf of my great-grandmother's family – I had little to prove any claim to them. The city graciously informed me that, since my grandmother was an only child, if I could provide proof of lineage from her then a simple letter to the clerk's office would suffice. I immediately furnished the clerk with these proofs and a list of descendants – I wanted to make sure to keep my humble ancestral burying ground connected to the heirs of the woman who sacrificed to set it up in 1932.
Now, I must tell you in the late 1990s no one in my family wanted to be buried in rural Kansas. And true it is that greed is a funny thing. A murmur in the family began to circulate that the seven remaining plots should be sold back to the city of Paola. I could see the dollar signs glimmering in the eyes of many of my kin. Reluctantly, I went back to the city and asked them, could the plots be sold back to the city?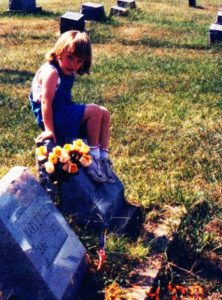 Yes, the City of Paola replied that they would happily purchase back the seven remaining Ogle plots. They would pay us exactly the same price Mrs. Ogle had paid for them in 1932:
"Six dollars apiece"
Needless to say the plots immediately became available again for family use – and oddly enough there is a renewed interest in the old ancestral burying ground. Imagine that!
Notes
[i] Funeral notice for Mrs. Mary Elizabeth Ogle, The Miami Republican, August 1970.
[ii] Family recollections of my grandmother Katheryn Ogle Record (1914–1993).
[iii] Findagrave.com memorials no. 35234298 and no. 35434243.
[iv] Correspondence from the City of Paola, Kansas, Jill Holmes, City Clerk, 25 March 1996.