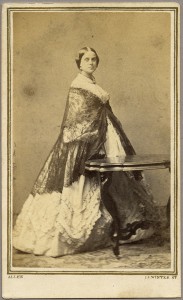 The last months of 1864 marked the beginning of the end of the Civil War, as well as the final illness of Mrs. Gray's[1] beloved brother John Shober. An effort at economy – by giving up a resident seamstress – left the diarist feeling uneasy as she prepared to go to her brother's bedside in Philadelphia.
61 Bowdoin Street, Boston, Sunday, 20 November 1864: …Friday evg. I took the children to the "Sailor's Fair," where they met a crowd of young friends, and had a good time, though they had but little money to spend. Their Aunt Sallie Gray[2] presented them with the entrance tickets, very kindly. The whole theatre was a glare of heat & light & blazing colour, very gorgeous, but very wearying; and after walking round with Morris [Gray][3] for 2 hours I was glad to come home, leaving the older boys to stay as long as they liked. I made but 2 purchases – one of Barnum's Self-sewers for my machine – it seemed to me a very good thing; and some shells for Morris's Christmas gift.
On Tuesday I went by invitation of Sallie Gray, to the splendid tableaux got up for Mr. Willie Paige's hospital fund. They were very beautiful. Portraits & groups got up in exact imitation of paintings from old masters – Titian, Rembrandt, Rubens, Velasquez, Veronèse,[4] &c &c. Mrs. Gardiner Hammond,[5] [her sister-in-law] Mrs. Sam Hammond,[6] Rosie Warren,[7] Mrs. Turner Sargent,[8] … Hunt[9] the Artist…
A musical party group from Giorgioné[10] was lovely – Mrs. S. Hammond, Fanny Horton, Mrs. Hunt, [and] John C. Jones in it. A group from Gustave Doré[11] with Hunt as Don Quixote, Eugenia Mifflin[12] as the Duchess… Another with John Sturgis[13] for King Solomon on his throne, Mrs. Ed. Codman[14] for Queen of Sheba, Eugenia Mifflin & pretty Mattie Hazard for attendants, and a contraband boy as train bearer, was very good. A succession of scenes, with Fanny Horton for "Sleeping beauty," John Philips as [the] enchanted prince, were good too. But the last was wonderfully effective – Mrs. James Codman[15] and Mrs. Sam Snelling[16] as Italian peasants…, loaded with fruit and flowers pausing before a shrine of the Virgin to offer up prayers; a concealed choir chanting the "Ave Maria," the Virgin being Mary Bradlee, young Fred's[17] wife, behind a gilded frame – so breathlessly still she sat, that I never suspected it was other than an oil painting borrowed for the occasion! The whole thing was very successful, and the costumes splendidly got up in every detail.
Last Sunday was my brother John's birth-day – 50 years old – how time carried us on. He has rallied wonderfully and is freer from pain than for years back, and has lost all his nervous irritability, is cheerful, contented and affectionate; but his memory is still, and probably always will be, confused…
Sunday, 27 November 1864: A dull day with sprinkles of rain; we have had lovely fall weather since Tuesday morning; a great thing for Thanksgiving week, when so many are going to and fro. Horace Gray[18] & [the Grays' cousin] Sarah Wallace arrived Wednesday at midnight at Mother G[ray']s.[19]
We dined there on Thursday, a quiet Thanksgiving dinner – rather soberer I thought than usual – and it is never a very lively affair, as our children are the only ones there, and the atmosphere of their grandmother's house is not conducive to fun. Fred & Ellen [Gray][20] both seemed poorly. I was sick enough and weary enough to have been better off in bed myself – and would have been, but that our Frank [Gray][21] was in bed all day with head-ache, and I thought it would not do for two of us to back out. They all dined here on Friday – I believe the dinner was successful – but I was dazed with head-ache myself – and it was all I could do to keep at table, and not show how sick I felt…
2½ o'c. p.m.
Just rec'd a telegram from Philad. John is very ill again. I suppose such an attack as that of last Aug. – from which he may begin to rally in a few hours – God grant it. For of late he has been contented and happy, comparatively free from pain, and they have found much comfort & pleasure too, though a mournful one, in being with him – and his life is very dear and very important to us all. I may have to start for Philad. tomorrow. But they bid me wait for further news before doing so.
Now I feel what it is to have given up Isabella [Furfey] – to leave no one at home, who can keep things going right up stairs. Dora [Foster] is invaluable in her own department – the cook's – and every thing will go on as right there in my absence as in my presence. But Margaret has neither capacity nor experience though abundance of good will – and every thing will run behind hand and get out of order while I am gone. But I must try not to worry about that – Miss Choate comes again tomorrow week, and Miss Pigott[22] the week after too – [but] I could leave written orders I think for them.
Whether or no, if John should keep a long time ill – or should be called away I could not be content not to go on, and be of what use I might to him or the girls.[23] I await the next telegram with an intense anxiety.
Continued here.
Notes
[1] Hedwiga Regina Shober (1818–1885) was married to Dr. Francis Henry Gray 1844–80. Entries from the Hedwiga Regina Shober Gray diary, R. Stanton Avery Special Collections.
[2] Dr. Gray's sister-in-law Sarah Frances Loring (1811–1892), who married William Gray in 1834.
[3] The diarist's youngest son Morris Gray (1856–1931).
[4] Tiziano Vecelli [Titian] (c. 1490–1576), Rembrandt Harmenszoon van Rijn (1606–1669), Sir Peter Paul Rubens (1577–1640), Diego Rodriguez de Silva y Velásquez (1599–1660), and Paolo Caliari [Paolo Veronese] (1528–1588).
[5] Elizabeth Crowninshield Mifflin (1836–1877) married Gardiner Greene Hammond in 1856.
[6] Mary Crowninshield Warren (1841–1890) married Samuel Hammond in 1858.
[7] Mrs. Sam Hammond's sister Rosamond Warren (1846–1934), who married Charles Hammond Gibson in 1871.
[8] Harriet Lydia Boardman Parker (1820–1868) was Turner Sargent's first wife.
[9] William Morris Hunt (1824–1879) married Louisa Dumaresq Perkins in 1855.
[10] Giorgio Barbarelli da Castelfranco [Giorgione] (c. 1478–1510).
[11] Gustave Doré (1832–1883).
[12] Mrs. G. G. Hammond's sister Eugenia Mifflin (1842–1919), who married Dr. Gray's cousin Edward Frothingham in 1870.
[13] John Hubbard Sturgis (1834–1888) married Frances Anne Codman in 1858.
[14] Leslie Prince Tilden (1837–1903) married Edward Wainwright Codman in 1858.
[15] Dr. Gray's cousin Henrietta Gray Sargent (1838–1923) married James Macmaster Codman in 1858.
[16] Perhaps Eleanora Ellicott Paul (1833–1909), who married Samuel George Snelling in 1854.
[17] Mary W. Horton (d. 1880), who married Mrs. Gray's stepmother's nephew Frederic Wainwright Bradlee in 1862.
[18] The diarist's brother-in-law Horace Gray of New York (1821–1901).
[19] Mrs. Gray's mother-in-law, Mary Clay (1790–1867), was married to William Rufus Gray 1809–31.
[20] Dr. Gray's unmarried siblings Frederic (1815–1877) and Ellen Gray (1830–1921), frequent visitors to the F. H. Gray household.
[21] The diarist's eldest son Francis Calley Gray (1846–1904).
[22] Misses Choate and Pigott were seamstresses who worked for Mrs. Gray by the day.
[23] The diarist's unmarried sisters, who lived with John Shober in Philadelphia.