[Author's note: This series, on Mrs. Gray's reading habits, began here.]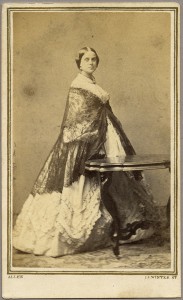 Late in January 1863, Major General George B. McClellan made a visit to Boston following an invitation from a group of civic leaders, one that included Regina Shober Gray's[1] brother-in-law William Gray (1810–1892).
61 Bowdoin Street, Boston, Thursday, 29 January 1863: Mc.Clellan and his wife[2] arrived yesterday p.m. Wm. Gray took Fanny [Gray][3] up to Worcester with the delegation… Of course they had a delightful chance to make acquaintance. Fanny is charmed with Mrs. Mc C. – she & her father rode up to the Tremont House [Hotel] with them, and Mrs. McC. gave Fanny the bouquet which was presented to her at Worcester.
Tomorrow the great dinner & reception at W.G.'s comes off. It will be a regular jam I am afraid. The party at Lizzie Abbott's last night went off very pleasantly. It was very pretty to look at, and Rebecca [Wainwright][4] and I, who felt quite elderly among the rest, quite enjoyed the looking.
[We] all look like Camanché Indians as if we had walked out of Catlin's Ind. Portraits.
All the heads have suddenly flowered out into this elaborate puffing, rolling, crêping and powdering, it was really wonderful to see. Very becoming to some, especially blondes. The headdresses are very tall and what with buds, butterflies, beetles, feathers, pompons & flowers, the effect is decidedly barbaric – we all look like Camanché Indians as if we had walked out of Catlin's Ind. Portraits.[5]
Sunday, 1 February 1863: The great reception at W.G.'s went off with most brilliant success, and was not such a terrible jam as was expected after all. So many who came, merely to be presented, kept their carriages waiting, and went off in 10 or 15 minutes, from a feeling that it was only fair to others to get out of the way. About 1500 invitations and about 8 or 900 came – but at no one time could there have been over 600 in the rooms. Every body turned out – elderly ladies who retired from such affairs long ago.
The dinner guests were 20 in all – Mrs. Mc C., Mrs. Gray,[6] Isa Loring,[7] and Isa G.[8] being the ladies at table, Messrs. Everett,[9] Agassiz,[10] Ticknor,[11] Pierce (astronomer),[12] O.W. Holmes,[13] Mayor Lincoln,[14] Commo.'re Montgomery,[15] Chief Justice Bigelow,[16] [and] the 2 Wm. Grays.[17]
Of course it was very elegant – Mc. Clellan and his four staff officers being in uniform and the Commo're too. Sallie [Gray][18] wore black velvet, Isa L. blue moiré, Isa G. blue silk with blue & silver wreath and silver ornaments. Mrs. Mc. C. wore white silk with elaborate trimming of deep scarlet velvet – and scarlet flowers in her black hair. She has less beauty of outline than I expected to see – but great play of feature, very easy graceful carriage and quite fascinating manner. Altogether a very gracious & charming woman.
Of course it was very elegant…
The Gen. is a manly looking fellow – but not handsome with black hair and sandy whiskers & moustache, might be much taller than he is without disparagement to his personal effect – with a perfectly simple quiet manner – a character of strength [and] determination, and strong good sense in his expression – but no brilliant genius betrays itself there to the ordinary observer – and unaware of who and what he is, one would not instinctively select him as the greatest general of our time…
Sunday, 22 February 1863: …I went to "Dinorah"[19] on Monday – my only chance as yet at the opera. Rebecca has had the Misses Eustis staying with her & they of course used the family tickets. I liked Dinorah exceedingly – the orchestral accompaniments, overture, and interludes are grand…
I have been reading with much interest the "life of Choate."[20]
Friday, 27 February 1863: Mary [Gray][21] and I went shopping this morning for summer things – prices are enormous, and are going up daily. Took Mary to the Opera last night expecting "La fille du regiment,"[22] but [Clara Louise] Kellogg[23] was sick, and "Traviata"[24] was substituted – the last thing one would choose for a child to see. To me the change was a gain: [Angelina] Cordier makes a fascinating "Violetta" and [Pasquale] Brignoli out-did himself as "Alfredo" – the music is bewitching – but all the mammas, who like me, had brought young children to an innocent and short opera, were like me disappointed…
Tomorrow we dine at W.G.'s. and in the evening Ellen & Fred [Gray][25] come here to whist. I am reading the "Slave Power" by Cairnes[26] – a remarkable book. On Monday Frank [Gray][27] and I went to Mrs. Otis'[28] Washington's birth-day reception. She kindly invited him, at the McClellan presentation at Mrs. Richards. I was glad he went, for her first words to me were "Where is our young delegate, my friend Frank?" She has the most wonderful tact in that way, and makes every one think his or her arrival the most gratifying event of the day to her – so her friends are put into good humor with her, themselves, and all the world around them. Such a person does a good work for the society of any place. Her house is a perfect curiosity shop, filled with rare, odd things – religious &c &c.
Continued here.
Notes
[1] Hedwiga Regina Shober (1818–1885) was married to Dr. Francis Henry Gray 1844–80. Entries from the Hedwiga Regina Shober Gray diary, R. Stanton Avery Special Collections.
[2] Major General George Brinton McClellan (1826–1885) married Mary Ellen Marcy in 1860.
[3] William Gray's daughter Frances Loring Gray (1843–1919), who married William Adams Walker Stewart in 1874.
[4] The diarist's best friend, Rebecca Parker Wainwright (1820–1901).
[5] Catlin's North American Indian Portfolio (1844) by George Catlin (1796–1872).
[6] Mrs. Gray's mother-in-law, Mary Clay (1790–1867), who was married to William Rufus Gray 1809–31.
[7] William Gray's sister-in-law, Isanna Elizabeth Loring (1814–1900).
[8] William Gray's eldest surviving daughter Isa Elizabeth Gray (1841–1923).
[9] The statesman Edward Everett (1794–1865), a former Secretary of State, was married to Dr. Gray's cousin Charlotte Gray Brooks 1822–59.
[10] Professor Jean Louis Rodolphe Agassiz of Harvard (1807–1873).
[11] Professor George Ticknor of Harvard (1791–1871).
[12] Professor Benjamin Peirce of Harvard (1809–1880).
[13] Professor Oliver Wendell Holmes of Harvard (1809–1884), father of Oliver Wendell Homes Jr.
[14] Frederic Walker Lincoln Jr. (1817–1898), Mayor of Boston 1858–60 and 1863–67.
[15] Perhaps Rear Admiral John Berrien Montgomery (1794–1872).
[16] George Tyler Bigelow (1810–1878), Chief Justice of the Massachusetts Supreme Judicial Court 1860–67.
[17] The younger was William Gray Jr. (1837–1886), son of the host.
[18] Sarah Frances Loring (1811–1892) married William Gray in 1834.
[19] Dinorah (1859) by Giacomo Meyerbeer (1791-1864).
[20] Perhaps The Works of Rufus Choate, with a Memoir of His Life (1862) by Samuel Gilman Brown (1813–1885).
[21] The diarist's daughter Mary Clay Gray (1848–1923).
[22] La fille du regiment (1840) by Domenico Gaetano Maria Donizetti (1797–1848).
[23] Clara Louise Kellogg (1842–1916).
[24] La traviata (1853) by Giuseppe Fortunino Francesco Verdi (1813–1901), based on Alexandre Dumas' novel La Dame aux Caméllias (1852).
[25] Dr. Gray's siblings Ellen Gray (1830–1921) and Frederic Gray (1815–1877).
[26] The Slave Power: Its Character, Career, and Probable Designs, being an attempt to explain the real issues involved in the American Contest (1862) by John Elliott Cairnes (1823–1875).
[27] The diarist's eldest son, Francis Calley Gray (1846–1904).
[28] Eliza Boardman Henderson (1796–1873) was married to Harrison Gray Otis 1817–27.