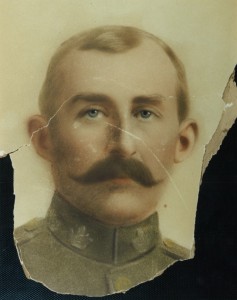 Next week I will be attending the Who Do You Think You Are? Live conference in Birmingham, England, where it is expected that more than 12,000 participants will be in attendance. The mustering of such a large body of genealogists and historians was only matched last year, in the United States, when the Federation of Genealogical Societies and RootsTech shared venues.
My ancestors are strong in New England on my mother's maternal side, and I am very Canadian with mixed origins on my father's side. However it is through my mother's father John Samuel Lea (1901–1965) that I am most recently British. I was last in England nearly thirty years ago, as I was approaching my senior year in high school. At that point, veterans of the First World War were still alive in America, Canada, and throughout Europe. Now, the centennial of the Great War is well underway.  I realized the other day that my great-grandfather John George Lea (1876–1953) embarked for England a century ago on a less leisurely trip to fight in Europe. As I sleep on my red-eye flight to England and arrive the next morning, I will think of the voyage and the fears on his mind back in 1916.
My great-grandfather John George Lea was born to John and Annie (Wilkinson) Lea, who were dairy farmers residing in the village of Blakenhall in Cheshire, where he was born 15 September 1876. The dairy cow herd owned by his family was twice struck with hoof and mouth disease, and they were put down by the British government each time. This left his parents in financial ruin. By the time John George was a teenager he was an assistant in the grocery store his father owned and operated in Willaston, Cheshire. His father died when John George was only fifteen years old. John would marry Harriet Ann Wilkinson in 1898 – no close relation to his mother, despite the similar names. In 1910, John emigrated to Toronto, and my grandfather, his mother, and sister Mary Olive emigrated in 1911 aboard the Empress of Britain.
John enlisted at Toronto on 6 December 1915 with the 124th Canadian Overseas Battalion; some of those men in the Canadian Expeditionary Forces would later fight in the trenches of France during the Great War. After training in Ontario, John's battalion embarked from Halifax, Nova Scotia on 7 August 1916 aboard the S.S. Cameronia. Eleven days later the Cameronia and her soldiers arrived in Liverpool. Over the next few months the regiment waited to be shipped across the Channel to fight.
On 9 March 1917, the Canadians left Witley Camp near London and disembarked at Boulogne, France. For the next eleven months my great-grandfather's unit would be involved in the fighting with other Canadian troops. On 9 February 1918, John was granted 14 days' leave in England. What did he do? Where did he go? I will probably never know, although it is true that his siblings were still living in Willaston. Did he visit his parents' grave, one that I still have not located? Many like questions are still unanswered, as he did not keep a diary, and his surviving letters home were not preserved.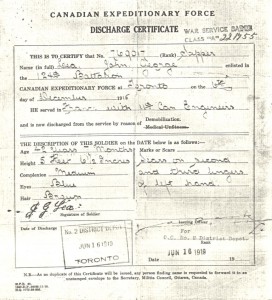 Going through a trunk when I was seven years old, I stared into the blue eyes of a man who died in 1953 in Toronto, sixteen years before I was born. My great-grandfather would  survive the war, although he had horses shot out from under him while working the supply trains to the front lines. He returned safely to Canada on 16 June 1919. In this photo, I saw the maple leaf emblem colored on his crayon drawing, and it made me wonder who he was so long ago. Next week, I leave on a plane and arrive in England a century after he did – in a matter of hours, versus a week and a half on the ocean. I will stay in much more comfortable accommodations then he did at Witley Camp in Surrey. But when I do return I will be wearing the regimental pin of the 124th Overseas Battalion – and I will not forget the man whose blue eyes made me proud to be a great-grandson of one who potentially risked everything to help his countrymen in England turn the tide of the First World War. To me John George Lea is more than my great-grandfather – I am proud of my hero from a century ago.