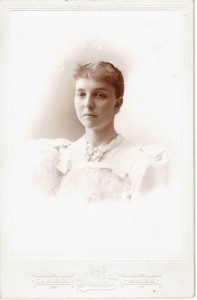 Searching for anything in My Old House carries certain risks, usually in the form of an interesting distraction (corsets, small bones I still refuse to discuss, or shoe lasts). My latest search turned up my maternal grandmother's greeting card album, so I've completely forgotten what it was I initially sought! The album is a treasure of illustrated birthday and calling cards from friends and relatives, small "reward of merit" cards presented by her teachers, Valentine's Day cards, Easter cards, and, of course, Christmas cards.
Lula Atlant Roberts McLeod (1876–1958) was a teacher in the schools of central Aroostook County, Maine, before her marriage in December 1899. Christmas cards had gained popularity from their beginnings in the 1850s, and by the 1890s, when my grandmother was teaching, cards with silk fringes were offered. She signed hers "Lula Roberts, Teacher."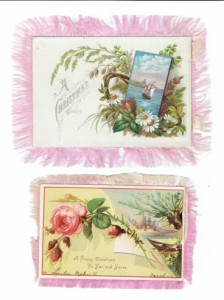 In a digital age of animated, musical e-cards and mountains of ubiquitous boxed cards, Lula's cards are examples of earlier tastes in design and sentiment. No Santa Claus figures here, no red and green colors, only an occasional holly branch or winter scene, and while the sentiments might have religious overtones, her collection is without religious illustration. More popular at the time were spring-like scenes and spring and summer flowers.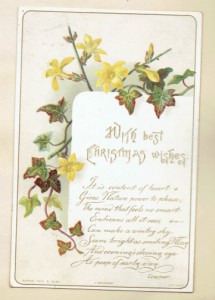 One Happy New Year card depicts a young girl holding roses, while the Christmas card below it folds open to reveal its Christmas message: "Love and Light/Illume thy night/Glad Joy and Peace/Grow and increase/And bring each year/True Christmas cheer." There's not a generic "Happy Holidays!" in the bunch, and certainly no Grinches.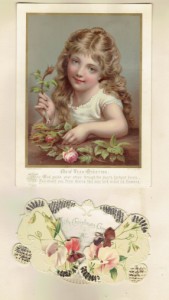 One card's Christmas wish says: "Now Christmas comes with hearty cheer, May kindly thought go round,/And bring to you a glad New Year with Peace and plenty crowned," a Christmas wish showing no signs of age.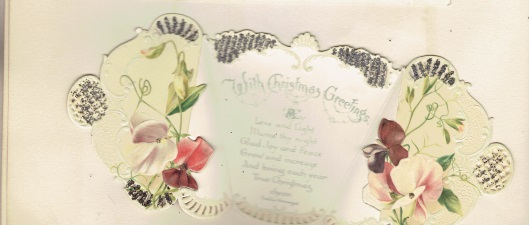 Merry Christmas and Happy New Year!