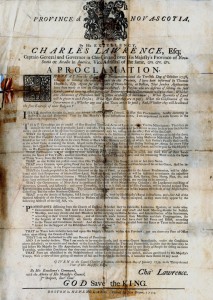 In my last Vita Brevis post, I wrote about some of the best sources to help identify your Loyalist ancestors. But before the Loyalists fled to Canada after the American Revolution, another important group settled Maritime Canada: the New England Planters. This often overlooked group of New Englanders (and others) left a cultural and political impact on Canadian history.
After the expulsion of the Acadians in 1750s, the British government was eager to resettle the area. In the fall of 1758, the Governor of Nova Scotia, Charles Lawrence, published a proclamation in the Boston Gazette welcoming proposals for the settlement of the now vacant lands. Just a few months later, in January of 1759, Lawrence published another proclamation, detailing the terms of settlement. Essentially, each settler would receive 100 acres of woodland and an additional 50 acres per member of the household. No person's grant could exceed more than 1,000 acres. In return, after ten years, settlers had to pay one shilling sterling per 50 acres per year. Attracted by thousands and thousands of acres of empty and fertile farmland, about 8,000 people left New England for Maritime Canada between 1759 and 1774.
Moses Shaw, my ancestor, was a Planter and settled at Granville Township in Annapolis County, Nova Scotia, sometime in the 1760s. A descendant of John Shaw of Plymouth, he was born in 1741 in Barnstable, Massachusetts, and was the father of eleven children. A short biography of Moses Shaw appears in Esther Clark Wright's Planters and Pioneers, considered to be one of the best New England Planter sources.
If you have eighteenth century Canadian ancestry, but are having difficulty tracing your family via Loyalist sources, try examining Planter sources. Here at NEHGS, we have great New England Planter sources, including some early township books on microfilm.
Here are just a few sources to get you started. Good luck!
Esther Clark Wright, Planters and Pioneers
Planter Studies Series:
Judith A. Norton, New England Planters in the Maritime Provinces of Canada: A bibliography of primary sources
Daniel C. Goodwin and Steven Bligh McNutt, Checklist of Secondary Sources for Planter Studies
Planter Studies Centre at Acadia University in Wolfville, Nova Scotia. The Planter Studies Centre offers a digital archive of sources, including their journal, Planter Notes. There is also offer a great, searchable database of Planter documents available on their website.
Township Records at the Nova Scotia Archives: A Searchable Database