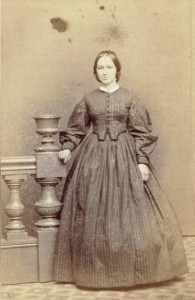 Recently, while going through my family's photos and albums, I laid out the various tintypes, cabinet cards, ambrotypes, albumen prints, and daguerreotypes on a long family tree chart drawn on paper and covering my dining table. I placed a tintype or daguerreotype next to each name. One cabinet card – of a pretty woman posing for her portrait, the hoop a faint outline supporting her skirt – crept into my hand, although I had no place to put it.
I have no idea who she is.
I can date the photo from her dress and hair style, as well as the pose and props often used by photographers of the time, but there is no indication of place or photographer. I can gain a certain amount of information from a close inspection of the card, but I cannot find her name, nor determine why her photo is in my family's collection. She is just one more unnamed figure in a photograph.
There are more than a hundred such photographs in my family albums, all unmarked and unremarked upon. Current wisdom says we should identify the people in our photos, but aren't we all victims of the "Of-course- I'll-always-remember-who-these-people-are!" kind of procrastination, only to realize years later that we have failed, leaving a frustrating mystery for our descendants?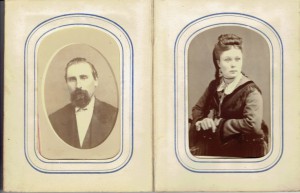 The photos of generations past are fascinating, whether of ladies in fine gowns, soldiers in worn uniforms, or families sitting so still in their "Sunday best."  Their stories are untold and silent, and I keep turning the album pages in hopes of finding a name on the next page.
And I just find more figures in the photographs.