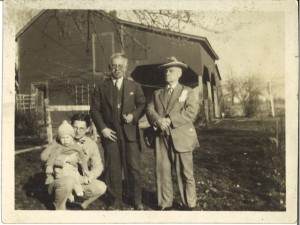 As a personal challenge, after seeing a few genealogist friends on Facebook post ancestor charts with photographs of their ancestors back to (in many cases) their great-great-grandparents, I decided to see how "complete" my collection of ancestral photos was.
Turning my attention to photos of my paternal grandmother's family, I contacted several cousins and arranged to meet my second cousin in Pennsylvania. He also had several photos which he allowed me to take back to Boston. Unfortunately, most of these were not identified. We were able to identify our great-great-grandfather, Herbert Heath Helman, as he posed in a picture with this cousin's father as a baby in the late 1920s. This photograph was meant to be "4 Helman Generations," so that gave us one of my direct ancestors.
I scanned several other unidentified ones, including a framed photograph of an older lady from the 1910s, and a tintype of a younger man from the 1890s. I sent these to several Helman relatives in hopes of further identification. My aunt quickly identified the framed lady from the 1910s as our ancestor Eliza (Peltz) Kelly, as she had the same photo herself. The tintype we concluded was her husband Thomas Nelson Kelly of Philadelphia, based on certain descriptions that we had of him and the timeframe of the picture. The photo of Mary Rosella Through is a bit of an educated guess, after concluding who the photo could not show, although I'd still like a bit more verification for her.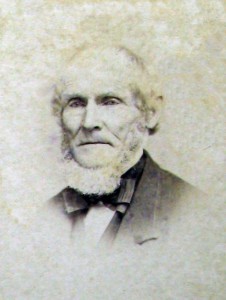 This left just my father's father's mother's father, Lemuel Healy (father of Uncle Morris, about whom I wrote in an earlier post). I contacted a couple of historical societies in his hometown of Dudley, Massachusetts. "Lem" Healy served on the board of trustees at Nichols Academy (now Nichols College) and was also the town clerk. His father had been treasurer of the local Dudley branch of the Massachusetts Anti-Slavery Society. I also contacted the Black Tavern Historical Society, which maintains a home that had been owned by members of the Healy family. The following morning I received e-mails from two different members, one of which not only included his photograph (taken from a book of old photographs from the Dudley Congregational Church parishioners, which the church historian allowed them  to scan a few years ago), but other very interesting newspaper clippings, including this silhouette with him enjoying his cigar.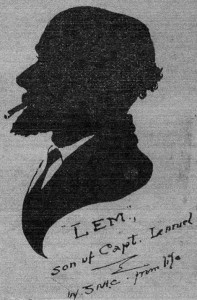 So in just a couple of months, I found pictures of the eleven ancestors that I had missing from my collection (with one being an educated guess). Looking to the future, I'm sure I won't be able to complete the next generation! Still, this was a fun exercise, getting me back in touch with some distant cousins and learning about the collections of some local historical societies as well.