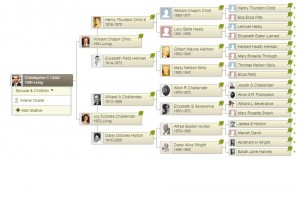 As a personal challenge, after seeing a few genealogist friends on Facebook post ancestor charts with photographs of their ancestors back to (in many cases) their great-great-grandparents, I decided to see how "complete" my collection of ancestral photos was. I have quite a few photos myself and have scanned many that other relatives have had over the years. This has often been a result of contacting second or third cousins, usually with around a 5-10% success rate when a relative actually turns out to have photographs of our common ancestors.
I started out complete for my parents and grandparents, but did not have photos of my patrilineal great-grandparents or any of my father's great-grandparents. I was much more complete for my mother: a genealogy on the Challenders included several of my maternal grandfather's family members, and when my maternal grandmother died in 2008 my aunts essentially let me have any photograph or genealogical record I wanted from among her papers. I lacked a photo of my mother's father's mother's mother, but quickly found that one in my grandmother's "shoebox" of photographs. One terrific thing I appreciate about my maternal grandmother is that she wrote on the backs of every photograph, identifying every person shown. (This was not the case in my paternal grandmother's family.)
Having gone through my own personal collection, I now had 6/8 great-grandparents and 7/16 great-great-grandparents. I wanted to complete my mother's side first, since I was only one photograph away. This was Mariah (Davis) Horton of Jackson County, Ohio. Years ago I visited the family farm for this side of the family, still maintained by my grandmother's younger first cousin. I contacted his son, my mother's second cousin, who readily supplied me with a picture of Mariah and many more! (My request prompted him to organize and scan dozens of family photos.) My mother's side complete, I then turned my attention to my father's side.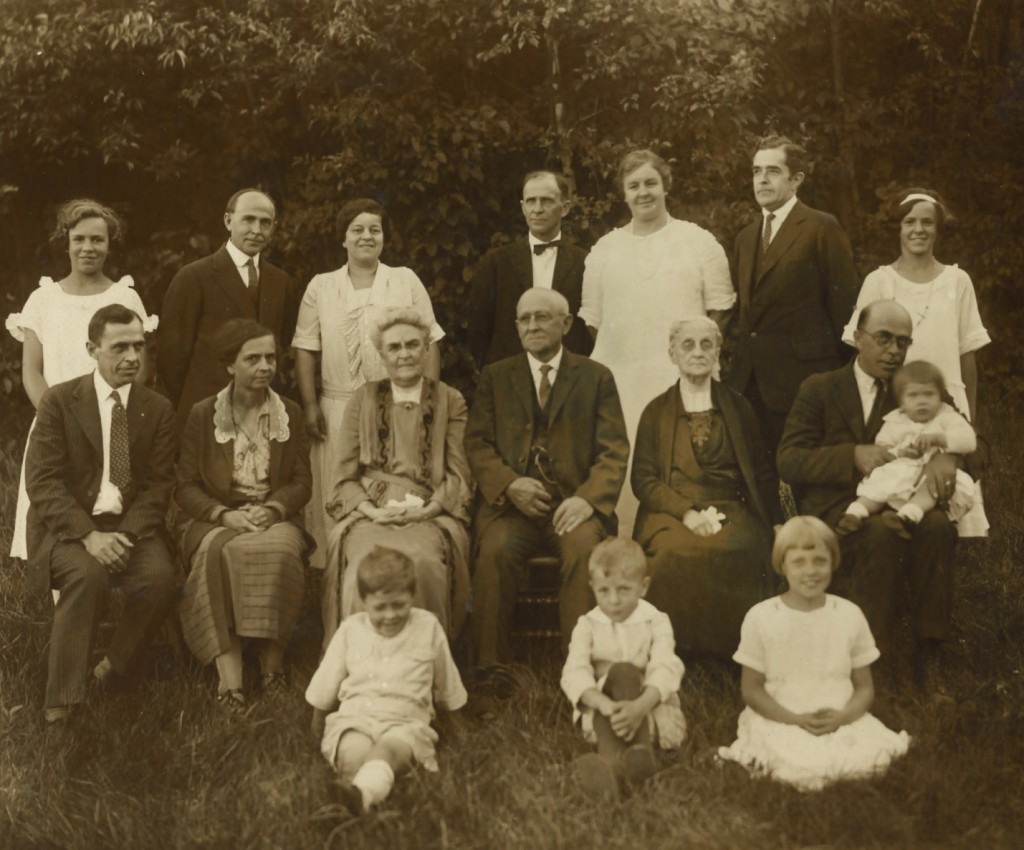 My father's father was from Woodstock, Connecticut. The NEHGS collection holds the papers of Clarence Winthrop Bowen, a wonderful genealogist of all things Woodstock. In this collection are many photographs, and here I found a photo of my grandfather's grandfather. Still, this left five more ancestors for this quarter. I contacted many relatives, including my father's first cousin, who owns the family farm my grandfather grew up on. His wife sent me a package with many family photos, all identified, with pictures of my grandfather's parents, paternal grandparents, and maternal grandmother. For this quarter this just left Lemuel Healy, who had died just a few years before this family photograph was taken.
Concluded here.