Family Tradition versus Fact, and a few shades of Gray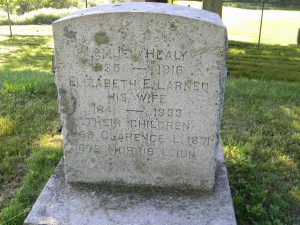 One story often repeated in my family concerned the mystery of my grandfather's uncle, Morris Larned Healy, who reportedly had died of "lead poisoning" at a bordello in New Orleans . . . or Atlanta. My grandfather, who told the story, was known for his vivid imagination, so I decided to see if the story had any validity.
Morris Larned Healy was born at Dudley, Massachusetts, 22 February 1875, son of Lemuel and Elizabeth Eaton (Larned) Healy. I can find him in the 1880 census, with his parents in Dudley, but in no later censuses. According to Healy History Revised,[1] Morris Healy died in Atlanta, Georgia, 28 September 1909, was buried at Dudley, and was married, with no children. I also found a record of Morris L. Healy getting married in Boston, Massachusetts, on 11 January 1910—four months after his supposed death—to Milla E. Clark, born Milla Eliza Kendall, at Townsend, Vermont, 21 April 1870, daughter of Amos Gould and Gertrude A. (Bruce) Kendall. Milla was first married to Norman F. Clark, by whom she had two children; they divorced in 1902. Her marriage to Morris Healy in January 1910 listed this marriage as her second.
In the 1910 census, however, Milla is still listed with her first husband's surname, living with her widowed mother, Gertrude. Morris Healy is nowhere to be found. Even stranger, Milla gets married for the third time in 1915 in Leominster, Massachusetts, to Edmond Metcalf, but she is using the name of Milla E. Clark, and still claiming this is only her second marriage! What happened to Uncle Morris?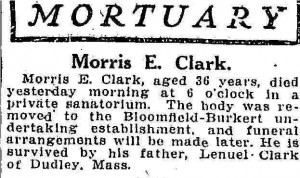 Healy History Revised had claimed he died 28 September 1909, but his tombstone in Dudley shows he died in 1911. Perhaps the genealogy got the year wrong, and he died 28 September 1911. I checked the Webster Times, the newspaper of Dudley's neighboring town, for funeral announcements in the fall of 1911. There I found a notice for funeral services for Morris Healy at his parents' house October 5, which mentioned that he died September 24. I then checked the Atlanta Constitution for fall 1911, and on September 26, I found the mortuary notice for Morris E. Clark, aged 36, who died the previous day at a private sanatorium, survived by his father Lenuel Clark of Dudley, Mass. This is partly why Morris has been so hard to find: he was using an alias. Perhaps he used the surname Clark as this was the last name of his wife when he married. His death certificate from Fulton County, Georgia, listed him as Morris E. Clark, with his correct date and place of birth, and as the son of Lemuel and Elizabeth Clark. His cause of death was acute nephritis that lasted two weeks. So much for "lead poisoning"!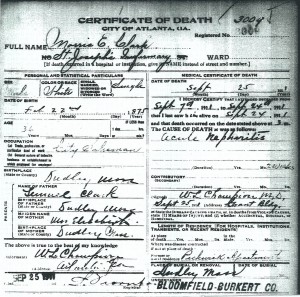 I cannot find what happened to Morris's wife after her 1915 marriage to Edmond Metcalf. Of her children, her son Guy Norman Clark was in the Windsor County Jail at the time of the 1930 census. Guy's wife, Sarah Elizabeth Castor, was the daughter of Louis Castor, a man convicted for uxoricide, for the murder of Sarah's mother! Several of Sarah's descendants, as I have traced them over several generations, have met untimely deaths, which have opened up a whole new series of stories to tell when anyone asks, "So what happened to Uncle Morris?"
Addendum: Thank you everyone very much for the comments regarding lead poisoning as cause of acute nephritis. The implication my grandfather was going for was that this was a "lead bullet," so perhaps there was some basis for his embellishment. I should also point out that my grandfather was born five years after his uncle Morris died.
Notes
[1] Ethel Eliza Pearl Brown Carrier, Healy History Revised (privately printed, Longmeadow, Mass., 1968), 34.