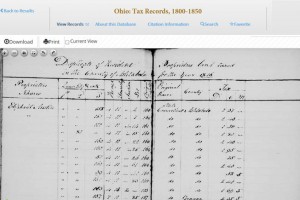 Last week a group of NEHGS staff members joined 22,000 attendees at the 2015 RootsTech Conference in Salt Lake City, Utah, for four days of learning, research, and fun. At the keynote session of the conference, NEHGS and FamilySearch made a historic announcement: a multi-year collaboration between the two nonprofit organizations to share data, digitize new records, and work to build an online family tree experience for NEHGS constituents.
Under a multi-year agreement, we will add more than 1 billion name records from the FamilySearch global historic record collections to AmericanAncestors.org and another 1 billion records from the FamilySearch family tree to our future family tree experience. The searchable and browsable records to be added to the NEHGS website include U.S. federal census transcripts (1790–1930); civil registrations for Italy, Germany, Scotland, and the Netherlands; English birth, christening, marriage, and death record transcripts dating from the fifteenth century through the twentieth century; and a panoply of census records, birth records, marriage records, and death records for states across the U.S.
In turn, members of The Church of Jesus Christ of Latter-day Saints will have access to portions of AmericanAncestors.org through online affiliate accounts. In addition, NEHGS and FamilySearch will work together to digitize and make accessible unique materials from the NEHGS collection such as cemetery records from around the U.S. and Canada, historic tax records, early American military records, early New England marriage records, historic newspapers, and original scholarship from NEHGS published books.
Founded in 1845, New England Historic Genealogical Society is America's oldest and most respected resource for family history research and the largest genealogical society in America today. Although the institution's name says "New England," our organization is national in scope and provides expertise and research materials through AmericanAncestors.org in nearly all aspects of family history, from seventeenth-century colonial New England, New York, Pennsylvania, and Virginia through twenty-first-century immigration research.
For FamilySearch this collaboration will provide indispensable assistance to Latter-day Saint family historians by consolidating resources and providing a breadth of information unavailable elsewhere.
By partnering with us, FamilySearch is making an unprecedented scope of data available and accessible to the members of the LDS Church, some very eager consumers of historical materials. The ease of access to New England records will prove very encouraging to novice genealogists, and downright exciting to more seasoned enthusiasts.
FamilySearch and New England Historic Genealogical Society keenly understand the importance of collaboration in family history. Our two organizations are teaming together to help provide high-quality solutions and experiences for the family history community.
* This project was indexed in partnership between FamilySearch and the Ohio Genealogical Society. Name index of tax records as recorded with the County Auditor of each county. Includes the following Ohio counties: Ashtabula, Belmont, Carroll, Columbiana, Guernsey, Harrison, Jackson, Jefferson, Monroe, Trumbull and Washington. The majority of the tax records in this collection are for the years 1816 through 1838.