World War I Draft Registration Cards can be filled with useful and pertinent information about our ancestors. They can show us birthplaces, birthdates, parents' nationalities, height, weight, hair color, and eye color. Additionally, occupations are shown on these draft cards, and can also be an invaluable resource.  Was your ancestor a porter at the Suffolk County House of Corrections,

a student at an automobile school,

or a busboy at the Boston Tavern on Washington Street? This information appears as part of the draft registration process.

Recently, while researching the Hastings line in Massachusetts, I came across Arthur Henry Hastings' World War I Draft Registration Card at Ancestry.com. In this instance, I realized that Arthur Hastings was employed at Marden, Orth & Hastings Corporation at 225 Purchase Street in Boston.
Did a Hastings family member start this company? Was the family that I was performing this research for aware of this company? I was able to search through business journals, textile publications, patent records, and advertisements to find out that Marden, Orth & Hastings Corp. was founded by James A. Murdock in 1837. Mountford S. Orth was a direct descendant of James A. Murdock, and he, along with Frank W. Marden and Walter Oliver Hastings (Arthur Henry Hastings' brother), took over the business in 1906.  The company was very successful and had offices in Boston, Chicago, Philadelphia, Cleveland, Seattle, St. Louis, Louisville, Bound Brook (New Jersey), Cincinnati, and San Francisco. Marden, Orth & Hastings dealt mainly with processing oils for the leather, paint, and textile industries, and stocked the tanning oils, extracts, and greases used in these businesses.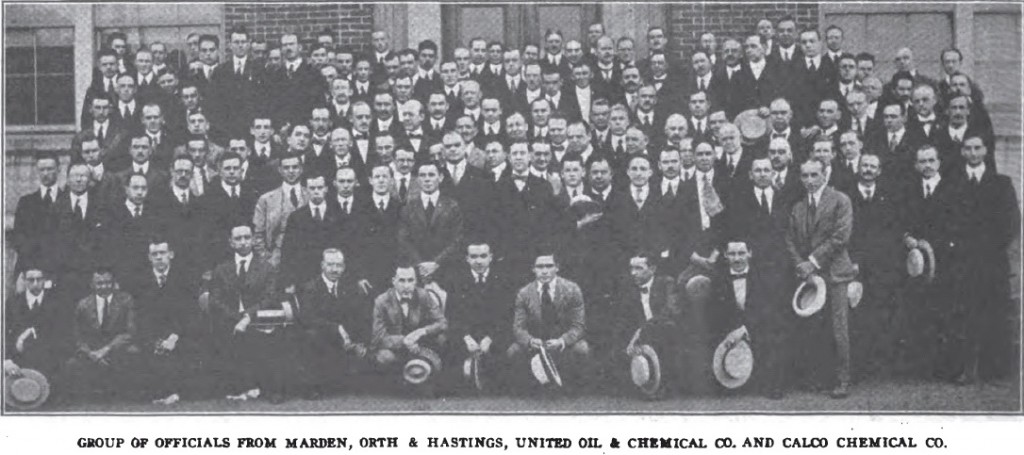 Many different kinds of leather characterized the Boston market in the early twentieth century; tanners were firm on their prices and buyers were unable to buy leather on their own terms.[1] A rising market in Boston in 1922 benefited both tanners and shoe manufacturers, as buyers were obliged to figure ahead on supplies, and shoe retailers and jobbers placed larger orders instead of buying small lots in anticipation of lower prices.[2] More boots were produced in 1922 than the previous year, but the bulk of the shoes produced were oxfords. Marden, Orth & Hastings lasted until the stock market crash in 1929. I was able to find a picture of the company from the August 1918 Textile World Journal (see above).
This was great information for the family I was performing research for, and showed me a valuable lesson when looking through military draft registration cards: there is much more information on these records than simply when and where a family member may have registered for a military draft. Pay close attention to the other details and you may find out some valuable information that was previously unknown to your family.
Notes
[1] Shoe and Leather Reporter, 19 October 1922, p. 33.
[2] Ibid.