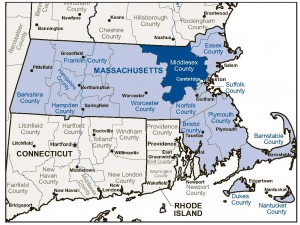 Middlesex County was created on 10 May 1643 as one of the original four counties of the Massachusetts Bay Colony. The other original counties were Essex, Suffolk, and a now extinct Norfolk – a name later reused for a different geographic region in the state.
At its founding, Middlesex County covered a broad swath of Massachusetts. The county was bordered to the north by New Hampshire, to the east by Essex County, to the south by Suffolk County, and to the west by New York – until Hampshire County was created in 1662. Middlesex's western boundary was altered again by the creation of Worcester County in 1731. Now, and for the first time ever, historic Middlesex County probate records are fully searchable online – and for free!
Throughout the period covered in these records, Middlesex was the most populated county in Massachusetts, with some 275,000 residents by the 1870 U.S. census. Available on AmericanAncestors.org, and made possible through a partnership with the Massachusetts Supreme Judicial Court Archives, this database includes more than 45,000 probate cases between 1648 and 1871. The cases include wills, guardianships, administrations, and various other types of records.
Probate records are data-rich genealogical documents often containing information about the date and place of death of the subject, the subject's marital status, spouse's name, children's names, relationships between family members, residences, inventories of property, and perhaps even the subject's mark or signature. For a New England researcher, these records should prove invaluable for providing detailed information on individuals who resided in the region from its earliest days to the late nineteenth century.
The following towns – with the year in which they were established – are included in this database:
Acton (1735), Arlington (1807), Ashby (1767), Ashland (1846), Bedford (1729), Belmont (1859), Billerica (1655), Boxborough (1835), Brighton* (1806), Burlington (1799), Cambridge (1636), Carlisle (1780), Charlestown* (1630), Chelmsford (1655), Concord (1635), Dracut (1701), Dunstable (1673), Everett (1870), Framingham (1700), Groton (1655), Holliston (1724), Hopkinton (1715), Hudson (1866), Lexington (1713), Lincoln (1754), Litchfield** (1734) Littleton (1715), Lowell (1826), Malden (1649), Marlborough (1660), Medford (1630), Melrose (1850), Natick (1781), Newton (1688), North Reading (1853), Nottingham** (1733), Pepperell (1775), Reading (1644), Sherborn (1674), Shirley (1775), Somerville (1842), Stoneham (1725), Stow (1683), Sudbury (1639), Tewksbury (1734) , Townsend (1732), Tyngsborough (1809) , Wakefield (1812), Waltham (1738), Watertown (1630), Wayland (1780) , Westford (1729) , Weston (1713), Wilmington (1730), Winchester (1850), and Woburn (1642).
* Brighton and Charlestown were annexed by Boston in 1874.
** Litchfield and Nottingham were ceded to New Hampshire in 1740.
Happy searching!