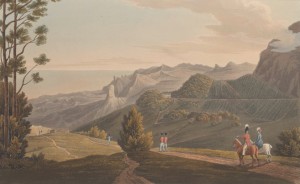 One must always expect surprises when researching family history, because you just never know what you might uncover.
When researching my paternal ancestors, I discovered that our family had ties to one of the most remote places on the planet: the island of Saint Helena. Made famous as the location of Napoleon Bonaparte's second exile, Saint Helena is a rocky, volcanic island located in the South Atlantic Ocean between South America and Africa. The current population of the island is just over 4,000 people. My ancestor Charlotte (Sears) Legge was born there, in the town of Jamestown, in 1808.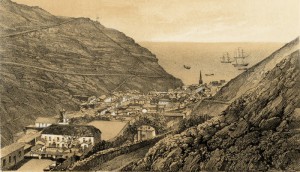 So when I learned that our family had ties to such a remote place, naturally, I had some questions. Why were they there? And how did they end up in Massachusetts?
Saint Helena was settled by the English by 1650, and it became a port of call for the British East India Company. Eventually, the island became an important half-way point for ships traveling to China and India in the seventeenth and eighteenth centuries. But the island is most famously known for Napoleon Bonaparte, who was exiled to this remote locale from 1815 until his death in 1821. William and Charlotte (Sears) Legge, my ancestors, named a son William Napoleon Legge in honor of the Emperor.
In 1821, after Napoleon's death, the population of the island decreased, as Saint Helena became a less popular port of call for merchants, further increasing the island's isolation. Many residents left for better opportunities, some immigrating to Cape Town, South Africa, and others to the United States.
I have yet to uncover the reasons why my ancestors settled in this far off place. They could have been early English settlers of the island, merchants, or members of the British military. Hopefully, with some more research and a little luck, I can discover their reasons for settling at Saint Helena.
After the death of her husband, Charlotte Legge left Saint Helena for Edgartown on Martha's Vineyard, probably seeking a better life for her family in Massachusetts. In the 1860 U.S. Federal Census, Charlotte was listed at Holmes Hole in Tisbury with six of her children: William, Richard, Lewis, Jemima, Louisa, and my great-great-great-grandmother Isabella Agnes Legge. Martha's Vineyard and Cape Cod were popular destinations for natives of Saint Helena. Late nineteenth and twentieth century census records reveal many familiar names in Tisbury, New Bedford, and Falmouth, and in Fairhaven in Bristol County. As mariners and merchants, these coastal communities would have been a natural fit for these islanders.
Some of the Legge children married and remained on Martha's Vineyard, while others moved to Cape Cod. My great-great-great-grandmother stayed on Martha's Vineyard for the rest of her life. Her first husband died during the Civil War, and she later married my great-great-great-grandfather, Manley S. Smith. As for Charlotte, after a lifetime spent on islands, she eventually settled in Fairhaven and died there of typhoid fever at the age of eighty.
I hope one day to learn much more about the Sears and Legge families of Saint Helena. For now, it's an interesting – and unexpected – piece of my family's history.