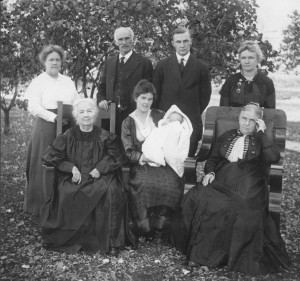 A few nights ago, I was watching Hercule Poirot on TV, working to solve a complicated mystery. At one point, he found himself stumped and said, "I am an imbecile. I see only half of the picture." As an aspiring genealogist (read: amateur detective), I can certainly identify with the great detective in that way. I get that feeling all the time! I feel much more like Miss Lemon, who replies, "I don't even see that."
I guess it's common knowledge that many aspiring (and even accomplished) genealogists see genealogy as a British murder mystery, a puzzle just begging to be solved. I know I do. And I have at least as much trouble solving my genealogical puzzles as Hercule, Miss Marple, and, dare I say it, Inspector Morse. Of course, the big difference is that those fictional detectives solve every case by the end of the episode. We genealogists can struggle for years, trying to solve our mysteries. Fortunately, very few of our cases involve murder.
When I first developed an interest in genealogy, I was extremely spoiled by the fact that it seemed as though previous genealogists had already done the bulk of the hard work. My wife's older sister had been presented with a family tree by her great-aunt and -uncle, done in 1937, and it had only a few blank spots. I thought: I'll see if I can fill those in! Well, I think I filled in only one, but I was able to confirm much of the rest of the tree, mainly by referring to the many compiled genealogies found at NEHGS. My wife's families are all primarily from New England, which was a lucky break. So I decided to look into the Sturgis family. The Sturgis family settled on Cape Cod in the seventeenth century and again, there are several compiled genealogies that detail many branches of the family, including all the way down to my great-great-great-grandparents. Gee, this genealogy isn't so tough! You just have to find the right book, and it's all laid out there for you!
It wasn't until I started investigating my paternal grandmother's family that things got interesting.  Hmm. Grandmother's maiden name was Smith. Fortunately (for genealogical purposes), her mother's name was 'Fish' and her maternal grandmother's name was 'Bull.' I seem to remember Grandmother saying, "Well, when you look at my family, it's all fish and bull." The Fish and Bull families were in Massachusetts in the seventeenth and eighteenth centuries, and their genealogies are also pretty well established. But those pesky Smiths…
The "Smith problem" (or, should I say "challenge"?) caused me to temporarily turn to my paternal great-grandmother's family. Let's see. Her name was Angeline Hartman. Good! And her mother's name was …  Jane Jones. Jones? Well, maybe these people were all from Massachusetts, too. Let me just check some of Grandmother's notes.
Hmm. "With the exception of the Sturgis, Fish, and Bull families, everyone came to Oregon and Washington from Tennessee. And, the Fish family had departed from Massachusetts many years before, with stops in New York, Ontario, and Missouri, before taking the Oregon Trail to Oregon in the 1860's." Fortunately, grandmother had made detailed notes of her families and had saved the record page from a family bible of the Jones and Hartman families. And I've been able to find various civil records of the births, marriages, and deaths of several of the ancestors. So light is beginning to dawn on that side of the family.
Now for my mother's side of the family. Her grandfather's name: 'Timothy McCarthy.'  (Hmm.) Timothy's  father's name: 'Patrick McCarthy.' (Uh-oh.)  Tim's mother's name: 'Mary Ryan.'  (Heavy sigh…)
Yes, genealogy's got it all. The whole thing laid out for you by some hard-working nineteenth-, twentieth-, or twenty-first-century genealogist. Or, much more likely, you've got the opportunity to do what the old-timers did: Solve a mystery that would stump Hercule Poirot. (Temporarily, at least!)