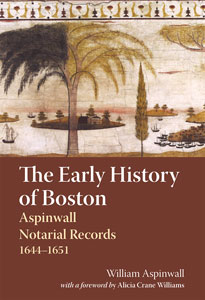 Notarization is a legal process meant to deter document fraud. It involves authenticating the person or persons who are signing a document, certifying that they did sign, and keeping records of what was notarized. When the first settlers arrived in New England, there were no banks or law offices where a business agreement could be drawn up, letters of attorney devised, a manifest certified, or a multitude of other legal documents created and authenticated.
William Aspinwall arrived with the Winthrop Fleet in 1630, but his years in New England were checkered by his liberal political views and support of the heretic Ann Hutchinson, and he moved around from Massachusetts Bay to Rhode Island, Connecticut, and back to Boston.  Eventually he was encouraged to return to England, but between 1641 and 1651 he enjoyed a period of good standing with the Massachusetts Bay Colony and served as the Boston town clerk, Suffolk County recorder, and notary public. He kept careful records of every document he notarized, in some cases full copies, and these records now provide historians and genealogists with invaluable insight into the business and legal lives of the early inhabitants of Massachusetts Bay.
Aspinwall's Notarial Records go far beyond dry business dealings. They provide rich biographical images of the transatlantic merchant community of Boston. How can one pass by descriptions of cargo such as "one butt of sack" or twenty yards of "birdsey fustian" without wanting to know more?  For the genealogist, such things as letters of attorney, acknowledgments of receipts concerning estates in England, marriage contracts, and certificates provide some of the most interesting fodder. In 1649 David Nichols of Boston, shoemaker, appointed Thomas Roberts of Boston, feltmaker, who apparently was on his way to England, his attorney to collect the legacy from Nichols's father's estate in Cowbridge, Glamorganshire. Christopher Lawson and his wife Elizabeth, daughter of John James, acknowledged in Boston in 1648 receipt of ten pounds she had inherited from the estate of Thomas James of Filton, Gloucestershire. An indenture deed dated 1615 between William Cole and his new son-in-law, David Thompson, both of Plymouth, Devonshire, in which Cole gave property there to David and his wife "Ems," and a receipt from Cole dated 1625 regarding £50 his daughter had paid to him, were presented to Aspinwall in Boston in 1648 by Amies Tomson to be notarized. Aspinwall also provided certificates of marriage, such as the document stating that Adam Winthrop and Mrs. Elizabeth, the late wife of Nathaniel Long, were married in 1649.
Every page has interesting gems for the researcher of colonial history, and for those whose ancestors are among Aspinwall's clientele there can be important genealogical and biographical finds. This presentation of A Volume Relating to the Early History of Boston Containing the Aspinwall Notarial Records from 1644 to 1651, a reprint of the 1903 edition published by the Boston Record Commissioners, brings one of the "best-kept secrets" of New England research to a new audience.
Adapted from the foreword to The Early History of Boston: Aspinwall Notarial Records (2014).