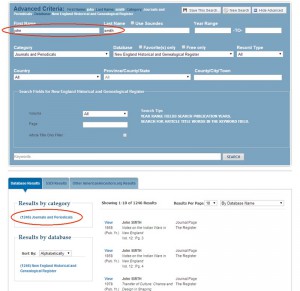 NEHGS members have the ability to search a large number of genealogical journals, including The New England Historical and Genealogical  Register, The American Genealogist, The Pennsylvania Genealogical Magazine, Rhode Island Roots, The Essex Genealogist, The Mayflower Descendant, and many others. To view a list of journals available on AmericanAncestors.org, go to our database search page, select the Category 'Journals and Periodicals,' and then open the 'Database' drop-down list. Journals may be searched by first and last name, and also by article title keywords.  When searching a journal, be aware that the year range fields apply to the year of publication, not the year of an event, so these fields are best left blank. Also, specifying a location when searching journals will produce no results at all. This is because all searches on AmericanAncestors.org are 'exact' searches and journals are indexed by names only. As a result, adding a location to a journal name search is guaranteed to never match the contents of the database, and will produce no search results.  Once these peculiarities are understood, journal searches can be very fruitful.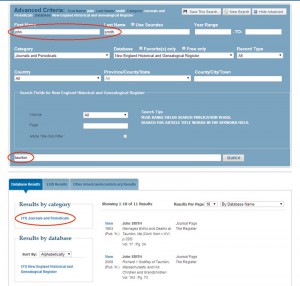 Although year ranges and locations are not applicable to journal searches, words from article titles are searchable, either by themselves or in combination with names. For instance, searching the Register for the name 'John Smith' alone will return 1,246 record matches, or 'hits'.  Searching for 'John Smith' in articles containing the keyword 'taunton' returns 11 hits, all for the name 'John Smith,' all in articles with titles that contain the word 'taunton.'  To search journal titles only (without specifying a name), check the 'Article Title Only Filter' checkbox on any journal search page.  Searching in this manner reveals 38 Register articles with the word 'taunton' in the title.
For any given journal (or for any image-based database on AmericanAncestors.org), once on an image display page, it is possible to view any page of any volume in the database by selecting a volume from the 'Volume' dropdown list, and then entering the desired page in the 'Page' text entry field. The 'Previous' and 'Next' page controls may also be used to progress through a volume on a page-by-page basis. This makes it easy to jump to a specific article when the volume and page reference are known.
A little known fact about databases on AmericanAncestors.org is that some databases are free to guest users, usually for a limited period of time.  During the month of July 2014, this includes Rhode Island Vital Records 1636–1850 and The Maine Genealogist.  The list changes monthly. To find out which databases are offered free to guest users, go to the database search page and click on the 'Free Only' checkbox, just above the 'Database' dropdown list.  This will limit the 'Database' dropdown to display only free databases.  You can also find a list of all free databases on our Free Databases page.
Journals are a wonderful source of genealogical information. Try some journal searches today!