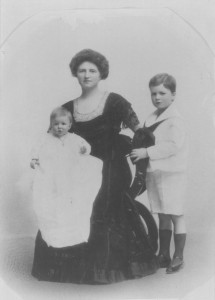 According to the Book of Genesis, one of the first things Adam did was to give the things around him names: to name is to exert power – and to give it. An example of this in my own family comes to mind, and with it comes a far longer history than I think my parents or my grandparents knew.
When my sister was born, my maternal grandparents' second grandchild and first granddaughter, my grandmother assumed that the baby would be named for her: Pauline. As I mentioned yesterday, my mother's first name was a moving target: it was at one time Pauline, at another Fairfax, until it crystallized as Barbara. I suspect my grandfather didn't care for it, even though it was his wife's and (perhaps more relevant?) his mother-in-law's first name. In any case, with that history behind it, my grandmother expected my sister to be named for her.
Now, I am not a junior – my parents named me for my father, but gave me his first name as my middle name. With that precedent in mind, they named my sister Margaret Fairfax Steward, neatly honoring the Steward side – Margaret Atherton Beeckman was my father's grandmother – and the Bell side, as my grandfather's sister was born Frances Fairfax Bell. Done and done – but not so fast!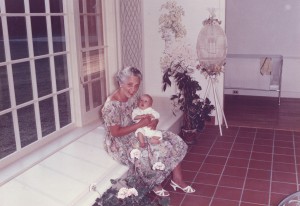 I'm too young to remember this, but apparently World War III broke out over Meg's first name. Not only was it not Pauline, honoring a beloved grandparent, but it was – horrors! – German. For all the long history in English-speaking countries of using the name Margaret and its variants, my grandmother took the position that her granddaughter was being named for some unidentified German on my father's side of the family, and all communication ceased for the next two years.
My Grandmother Bell was educated in Belgium just after the First World War, and she traveled around Europe in the 1920s. Her prejudice is illogical, however, and not just for all the obvious reasons: it was she who was the granddaughter of a German immigrant, not a Frenchman as she always claimed. My mother always understood that the Bouchers were French, and direct descendants of the painter François Boucher (1703–1770) at that, but the family also carefully preserved William Boucher Jr.'s 1845 passport, issued by the Grand Duchy of Baden.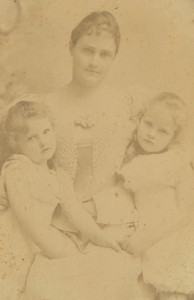 As for the name Margaret, I have traced it through the Beeckman, Foster, Atherton, Weeks, Gooding, Davenport, Snelling, Greene, and Polden families back to a Margaret born in the fifteenth century. We are not actually entitled to the name Fairfax, although it has been used by the Bell and Steward families for more than a century: my Great-Grandmother Bell named her daughter for a first cousin, the mellifluously-named Nell Virginia (Randolph) Fairfax, and then my grandparents and parents used the name in their turn. The name Pauline was first used in the 1850s for my great-great-aunt Mary Pauline Boucher, who died in infancy, and was then reused for my great-grandmother (Pauline's half-sister), my grandmother, and (briefly) my mother.