When I first began researching at the NEHGS Library, I was drawn to the wide array of cemetery records that could be found in published books and donated manuscripts. It's not by choice that I spend time locating cemetery records; it is because many family members had the 'misfortune' of living in New York State, where, outside of New York City, vital records registration did not start until 1881. Instead of using cemetery records to supplement birth and death dates, they often represent the only vital information on my ancestors.
Before the advent of findagrave.com, JewishGen Online Worldwide Burial Registry, Interment.net, or billiongraves.com, one hunted for cemetery inscriptions the old-fashioned way – by spending hours looking through library catalogs using search terms such as "inscriptions/epitaphs/cemeteries" paired with a town/county/state. It was a long process, but not without success, especially given the NEHGS collections.
I often wondered how the Society came to acquire so many cemetery inscriptions, some dating back to the 1880s. Since a "Committee on Epitaphs" was mentioned by authors who submitted transcriptions, I sought out NEHGS Archivist Sally Benny, who hunted through annual reports and Council proceedings until she located the records.
In March 1899, the NEHGS Council voted that a Committee be appointed "…to whom shall be referred the whole matter of the preservation of inscriptions in the ancient burial places of New England…" The Committee on Epitaphs began work that year, recruiting Society members "to arouse local interest" in copying the memorials, at the same time establishing basic guidelines for proper transcription. Manuscripts began to flow in, yet by 1903 the Committee was already looking for ways to quicken the pace: "While everything on the stone is valuable, names, dates, statement of the social relation, mortuary verse, decorations, and even the stone cutter's evident errors; yet the copying of everything, delightful and fascinating though it is, takes time, and for lack of time many stones remain uncopied and the inscriptions in danger of being lost through  the destruction of the stones."
To that end, in 1904 a four-page Circular was prepared offering three methods for copying gravestones, "the choice depending on the skill and patience of the copyist." Four hundred copies of Suggestions as to Copying Inscriptions were distributed to NEHGS members and allied organizations in an effort to standardize and speed up the transcription process.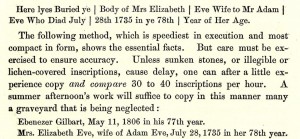 Some of the helpful hints in the Circular still ring true today:

As one who continues to make use of the Society's collection of cemetery records, I now know who to thank for the abundance.  I salute the NEHGS Committee on Epitaphs who, 115 years ago, had the foresight to begin the effort to document and preserve these records.