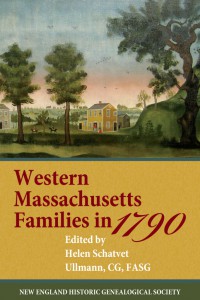 Although many Eastern Massachusetts colonial families have been well covered in print, the sons and daughters of those families who moved west are often lost to genealogists. The first stop on their migratory path was often in the woods of Western Massachusetts.
In many respects, Western Massachusetts is a different world from Boston and its environs. In the rural towns of Berkshire, Hampshire, Hampden, and Franklin Counties researchers can easily depart from the paved road in pursuit of a cemetery or family farm. Looking at the area via the satellite view on maps.google.com, Western Massachusetts appears to be mostly green forest, probably much of it rugged terrain, except for the major towns.
The history of the western part of the state reveals two patterns of settlement. The English early traveled north up the Connecticut River, past the falls above Windsor, and founded Springfield in 1636. Compared to Eastern Massachusetts, settlement occurred slowly: Northampton was formed in 1654, Hadley in 1659, Hatfield in 1670, and Deerfield in 1673. Even Westfield, on a tributary of the Connecticut River, was not settled until 1660. Areas at higher elevations on both sides of the river, and especially in the Berkshires, were not populated until well into the next century. Not until 1753 did the district of Southampton become the first to split from Northampton, and only in 1763 did Wilbraham become the first town to separate from Springfield.
Hampshire County, incorporated in 1662, included the entire colony west of the Worcester area to the ill-defined New York boundary. Having traversed the western forests and mountains during the French and Indian Wars, former soldiers found attractive possibilities west of the Connecticut River. Pittsfield was formed in 1761, the year Berkshire County was finally created from Hampshire. Franklin and Hampden Counties were not separated from Hampshire until 1811 and 1812.
Several important Western Massachusetts collections are held at the Berkshire Athenaeum in Pittsfield and available on microfilm at NEHGS and elsewhere: the Elmer I. Shepard Collection of Massachusetts Family Group Sheets, which contains data on many Berkshire County families; Berkshire County, Massachusetts, Miscellaneous Records (ca. 1620 to 1920) from the William B. Browne Collection; and the Rollin H. Cooke Collection of Berkshire County records, which is notable for its church records and Cooke's eight-volume set, "Pittsfield Genealogies." The Walter E. and Lottie M. Corbin Collection at NEHGS contains transcriptions of records for Berkshire, Franklin, Hampden, and Hampshire Counties. All of the collection is available on sixty reels of microfilm, and the records for many towns are presented as individual databases on AmericanAncestors.org. (For more details about the above collections, see The New England Historical and Genealogical Register 139 [1985]: 150–55.)
Adapted from the introduction to Western Massachusetts Families in 1790.