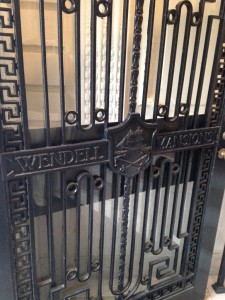 A month or so ago, I knew comparatively little about one of my great-grandfathers, a Baltimore architect. Most of what I knew was genealogical in nature, but I had – and have – no photographs, and I did not know much about his oeuvre, which was mostly apartment houses in and around downtown Baltimore.
Putting on my genealogist's hat, I turned to Google, searching for him under his full name. This yielded comparatively little, so I tried his professional name and then his initials with surname. All very well, but as I began putting together a timeline of his commissions, I kept (and keep) finding new details, all of which leads me to one not very profound point: Google will show you the universe (or a simulacrum, limited to whatever currently lives online), but you are responsible for sighting the telescope.
In my great-grandfather's case, this means coming at the problem over and over again. He had several partners in his architecture firm, so the firm name offers – and his partner's given names afford – important clues to be used in connection with my great-grandfather's name. His apartment buildings also had names (Earl Court, the Esplanade); with their street addresses, these names are useful data points in tracing his building commissions.
Above all, try not to think like a genealogist. In my great-grandfather's case, he generally went by his initials and surname professionally, reserving his full names for his grandest commissions, the ones that showed off his artistry. Google will only yield what is there, and, I have found, yield it somewhat grudgingly – hence the repeated attempts to find the same recalcitrant facts. For nineteenth- and early twentieth-century publications, Google gives what the compilers wrote, which is, in general, not what we as genealogists may naively expect.
So, by all means begin by searching full names, but be quick to move on to partial name searches and Soundex-style searches. Use every scrap of information you can think of, and use it aggressively, searching all the name variants for people and for places and things. Repeat these searches until you have exhausted every possible combination.
Nowadays, I can tell you quite a lot about the Baltimore architect Edward Hughes Glidden (1873-1924), but please, someone, find me his picture!