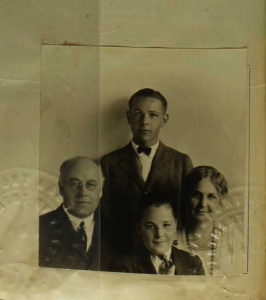 Sometimes I wonder why my husband and I even maintain a landline telephone. It seems to be used almost exclusively by telemarketers … including the scammer from "Technical Support" who called me twice at 11:00 p.m. this past week! Every once in a while it proves its value, though, such as the time last November when I received a call from an unknown woman in Berkeley, California, asking whether I had a grandmother or great-grandmother named Purle.
It turns out that after the United States entered World War I in 1917, a group of ladies in the Berkeley neighborhood of Claremont Park set up a sewing circle to help support the war effort. This was certainly not a unique endeavor, since such sewing circles were begun throughout the nation.
What made this one different was that the ladies decided to expand their minds as they sewed by incorporating book reading into the mix. The war ended the following year, but the Claremont Park Book Club is still going strong, and its current members decided to hold a centennial celebration in early December. Since my great-grandmother had been one of the founding members, my contact was hoping that I might contribute a photograph of Purle for a multimedia presentation.
While I knew a bit about my great-grandmother, it was fascinating to hear about her lasting legacy from a total stranger.
Sadly, of my eight great-grandparents, Purle (or Evelyn, as she preferred to be called) is the only one for whom I don't have a proper photograph. While five of my great-grandparents were alive at my birth, Purle died in 1941 when my father was still a young boy, and she'd been incapacitated by a stroke for a couple of years beforehand. While I have a few charming pictures of my father and aunt on vacation with their grandfather, I have only comments written by their grandmother Purle in the margins. I quickly emailed my aunt and her first cousin to see if they had any pictures of her, but turned up nothing.
Then I realized that my great-grandparents and their two sons applied for a group passport in 1923, and I'd been able to harvest their photograph from online records. It wasn't great, but it was nearly contemporaneous with the foundation of the book club, and it would have to do … so off it went to the Claremont Park Book Club for their centennial.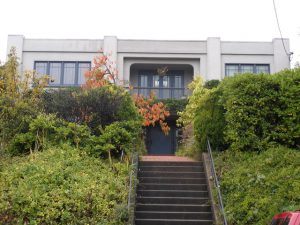 While I knew a bit about my great-grandmother, it was fascinating to hear about her lasting legacy from a total stranger. Her unusual Claremont Park house (designed by my great-grandfather in consultation with an architect) is evidently well known in the neighborhood, as is her leadership in the Berkeley community.
After lobbying for women's suffrage in California, she served as the second president of the League of Women Voters of Berkeley (1924-25), and first president of the Berkeley Women's City Club, whose eclectic 1930 Moorish/Gothic club house still serves as a hotel, event venue, restaurant, and private social club (berkeleycityclub.com).
That is my great-grandmother's public legacy, but a couple of private details perhaps bear sharing. Not long after my great-grandmother was born in 1878, her parents divorced … which was not as unusual in "Wild West" California as it was in other areas of the country. It appears that after my great-great-grandfather was out of the picture, his daughters and former wife added an "e" to their surname, turning Bottoms into the more elegant pseudo-French Bottomes (not unlike the social-climbing Hyacinth Bucket on PBS's Keeping Up Appearances, who insisted that her name be pronounced "Bouquet").
That change, plus being called by her middle name, helped my great-grandmother put behind her the dreaded playground appellation "Pearly Bottoms" (Purle E. Bottoms)!