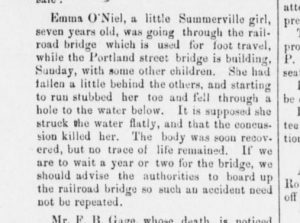 For the past three years I have been laboring on a Microsoft Word document that details every mention of James O'Neil and his family in the historical record. Now it is more a labor of love, but when it was created, it came from a place of frustration. I knew so little.
James is my great-great-great-grandfather. His daughter, Annie, died when my great-grandfather was just eight years old, and little information was passed down in the family. For a while it was thought that Annie had been born in Ireland, then orphaned, and that she came to Boston as a teenager. She was working as a waitress there when she and my great-great-grandfather, a Protestant businessman divorcé twenty years her senior, first met. Also around this time she dropped the "O'" from her name, opting for the more English sounding "Neal."
In truth, Annie had been born in Boston in 1876. My great-grandfather probably never knew it, but he had numerous cousins on his mother's side, aunts and uncles scattered around Massachusetts and, as I later learned, Vermont. Through the 1880 Federal Census,[1] I discovered that Annie had two brothers, Patrick and James, a sister Emma, and a half-brother, Michael A. O'Neil, born in Vermont, from her father's previous marriage. The earliest record I could find for James was his 1872 marriage to Annie's mother. Born around 1843 in New York, I could not find any records for the first thirty years of his life, his first marriage, or his time in Vermont. My Word document was populated with his appearances in Boston directories, and in tax and vital records.
A big break occurred when I visited the Archives of the Archdiocese of Boston in search of baptismal records for Annie and her siblings. There I found an Arthur M. O'Neil listed as sponsor for a couple of the O'Neil children. It finally clicked; Michael A. O'Neil the half-brother was actually Arthur Michael O'Neil. Armed with that information, I was able to locate Arthur's birth record in the Vermont Vital Records. The family lived in St. Johnsbury, and two other children from James' first marriage were born there, Mary Ellen and another daughter named Emma. The University of Vermont has digitized many of Vermont's early newspapers, and it was while searching through the Vermont Farmer that I located an article dated 28 August 1874 (see above).[2]
By the time of his daughter's accident, James O'Neil had already moved down to Boston. His first child from his second marriage was born just a month later. Emma and Mary Ellen were living with their maternal grandparents. James' first wife, Mary Bray, had died four years earlier, in 1870.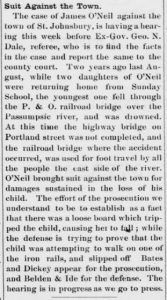 As surprising as it was to learn about the tragic fate of Annie's half-sister, I was even more surprised to learn that James O'Neil had filed a lawsuit against the town of St. Johnsbury for her wrongful death (see the article at right).[3]
To get the full story, and the verdict, I visited the Vermont State Archives in Montpelier where the records of the Caledonia County Court are stored. There I was able to flesh out more details of the accident, and a few previously unknown facts about the family.
The narrative described in the newspaper was mostly true. A storm in March 1874 had cleared away two bridges over the Passumpsic River, which divided the town of St. Johnsbury. As a result, an intact railroad bridge, itself infrequently used, became the only means for crossing from one side of town to the other. In an effort to make the passage safer, boards were placed between the rails, some by the town officials, and others by residents. The Essex County Railroad, who owned the bridge, raised no objection to the boards being laid between the rails, but denied St. Johnsbury's request to put lights on the bridge for fear that kerosene oil would create a fire risk.
Emma, then seven years old, was accompanying her older sister home from church with a large group of men, women, and children. As she proceeded across the bridge, she "hit her foot on the end of a board which was loose and stumbled over the rail," falling down between the timbers of the bridge. Representatives for the town tried to make the argument that Emma had been walking along the rail itself when she slipped and fell over. In other words, their defense centered on Emma's carelessness and lack of caution while crossing. Former Lieutenant Governor George N. Dale was brought in to referee the case. He found that the town had failed to maintain the bridge properly, that Emma exercised due caution, and awarded $600.00 dollars to James for the "loss of the society of his daughter."
The case file also includes a list of witnesses and sworn statements from both sides. James O'Neil and his surviving daughter were both called as witnesses. Through the referee's report, I learned that James sent a monthly remittance to his former father-in-law of $8.00 for keeping Mary Ellen, Arthur, and Emma. By trade, James was a brass molder, and I can imagine that payment was no small part of his monthly wages. The $600.00 settlement, no doubt, would have seemed a very large sum of money for the O'Neil family when they received it 1878.
James gave notice of the pending litigation at the end of August 1874. The case was finally concluded in December 1877. My great-great-grandmother Annie was born while the case was tied up in court. James' next child, born eight months after the case's conclusion, was named Emma in honor of her half-sister.
The O'Neil family has become one of my favorites to research, primarily because the family has proven so elusive. By tracing the family to Vermont, I have been able to add another ten years of historical record to my still-beleaguered Word document. What still impresses me is how little knowledge came down through the family. There were no recollections of James, nor of the tragic loss of his daughter Emma in 1874.
Notes
[1] Year: 1880; Census Place: Boston, Suffolk, Massachusetts; Roll: 552; Family History Film: 1254552; Page: 318B; Enumeration District: 590; Image: 0638.
[2] Vermont Farmer (Newport, Orleans County, Vt.), 28 Aug. 1874. Chronicling America: Historic American Newspapers. Library of Congress.
[3] St. Johnsbury Caledonian (St. Johnsbury, Vt.), 19 Jan. 1877. Chronicling America: Historic American Newspapers.