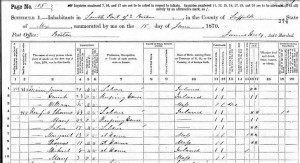 My great-great-grandmother, Margaret Kenefick, was born in Boston on 11 February 1857, the daughter of Irish immigrants Thomas and Mary Kenefick. When I began searching for the family in Boston, I turned to the 1860 Census, but was surprised when I could not locate the Keneficks in Massachusetts.
Whenever I cannot locate someone in a census record, my next step is to turn to city directories, when available. In the 1857 Boston City Directory, I was able to find Thomas Kenefick, laborer, living at 433 Commercial Street, the same address found on the birth record of Margaret Kenefick. However, Thomas Kenefick disappeared from the city directories after 1857.
Fortunately, the family is listed in the 1870 Census, living in Ward 2 of Boston. Thomas and Mary Kenefick have five children: John, Margaret, Thomas, Michael, and Mary. What caught my attention were the birthplaces listed for the Kenefick children. While Margaret, Thomas, and Mary list their birthplace as Massachusetts, John (age 17) and Michael (age 8) are listed as having been born in Ireland. As John is the oldest, it was unsurprising that he might have been born in Ireland, and then emigrated with his parents; however, Michael is one of the younger children. Was Michael's birth information incorrect, or does the disappearance of the Kenefick family from census records and city directories indicate that they returned to Ireland for a time?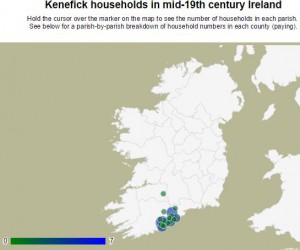 According to the death certificate of Margaret (Kenefick) Muir, her parents were Thomas Kenefick and Mary Woods. Kenefick is not a common surname; in the nineteenth century, it is almost exclusively found in County Cork. Many of the County Cork church records have been digitized at Irish Genealogy, where I located a marriage record between Thomas Kenefick and Mary Woods dated 13 April 1852 at Tracton Abbey, Kinelea, County Cork.
Searching the baptism records for the area, I came across a baptism record for a John Kenefick, son of Thomas Kenefick and Mary Woods, baptized 14 April 1853 at Cork South Parish. I also found baptism records for Thomas Kenefick, dated 23 April 1859, as well as a Michael Kenefick, baptized 18 July 1862. Thomas and Michael Kenefick are both listed as the sons of Thomas Kenefick and Mary Woods.

The baptism dates for John, Thomas, and Michael Kenefick line up with the ages of the children of my Thomas and Mary (Woods) Kenefick, who are in Boston by 1870. These are also the only children born to a Thomas Kenefick and Mary Woods in County Cork, which leads me to believe that this is the same couple found in Boston in 1857 and 1870. But why would Thomas and Mary go back to Ireland?
I found it interesting that Michael Kenefick was baptized at St. Finbar Church in the city of Cork, rather than in Tracton Abbey where his parents were married. Perhaps Thomas Kenefick took his family back to Ireland for economic reasons; according to a Kenefick family website, there was a Kenifeck family (alternate spelling) who were woolen drapers in the city of Cork throughout the eighteenth and nineteenth centuries. Though the potato famine had devastated much of Ireland, I briefly looked into the economic history of the City of Cork to see if the area had perhaps bounced back more quickly than the rest of the country.
The History of Cork provides a great deal of insight into the history of Cork throughout the Potato Famine and its aftermath. In the latter part of the nineteenth century, it appears that the city tried to revitalize its economy, but was largely unsuccessful due to competition from foreign markets. Therefore, it seems unlikely that Thomas Kenefick and his family would have returned to Ireland for economic opportunities. Perhaps family circumstances brought the Keneficks back to Ireland. My next step is to look at Irish Calendars of Wills and Administrations, 1858-1920, available on FamilySearch.org, and Irish Petty Sessions Court Registers, 1928-1912, available at Find My Past, for references to the Kenefick and Woods families in Cork that may explain why the family needed to return to Ireland.