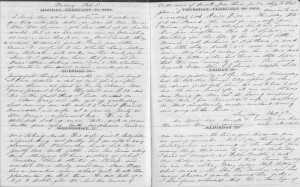 In the coming weeks, I will be reviewing a diary in our collection with an eye toward its eventual publication. The diarist is Hedwiga Regina (Shober) Gray (1818–1885), a native of Philadelphia who married Dr. Francis Henry Gray of Boston (1813–1880) in 1844. As diaries are rarely written with an audience in mind, no matter how remote, Mrs. Gray's diary – in twenty-five volumes, spanning the years 1860–1884 – is full of interesting mysteries about the identities of the people she encounters.
When she mentions calling on Sallie G., Mrs. Gray means her sister-in-law Sarah Frances (Loring) Gray (1811–1892), but when she writes of Aunt Sarah, is she referring to her stepmother's aunt Sarah Fletcher Bradlee (1789–1866) or to her husband's aunt Sarah Russell (Gardner) Gray (1807–1893)? Is Horace her brother-in-law Horace Gray (1821–1901), the New York merchant, or her husband's first cousin Horace Gray (1828–1902), the Supreme Court justice?[1]
Fortunately, as I read further, I am finding clues to identity that send me back to mark the relevant diary entries, but each page brings new questions. One that had nagged me from the beginning was what to call Mrs. Gray herself. Having read the first three years of the diary, I felt no closer to an answer – and, in fact, Mrs. Gray had a note to herself signed with the initials H.R.G., or Hedwiga Regina Gray.[2]
As I was reading the 1862 volume, Mrs. Gray mentioned with diffident pride that she had written an address to her "Sewing Circle" for its twentieth anniversary, which a friend had had published for distribution to the group's members.[3] Ah ha, I thought, perhaps the publishing history of this little volume will give me a clue about Mrs. Gray's preferred first name.
Thus far, a Google search has not led me to any new information on Mrs. Gray's 1862 address, but what I did find was a letter from her stepmother (always "Mrs. Shober" to the diarist, although they seem to have been quite close) to the-then Miss Shober. It begins:
You ask a great effort from me my dear child when you demand my sympathy and congratulations on your engagement with Dr. Gray. My dear Regina, it is taking from my home, its best comfort, and its brightest light … very bitter, my dear Regina, is thought of giving you up.   
Regina Shober married Dr. Gray in July 1844, so the letter was probably written in that year. As it happens, Mrs. Gray was the first member of her immediate family to marry; her youngest brother married in 1858, and their sisters married in 1867 and 1868 – I haven't yet reached those years in the diary, but I feel certain that Mrs. Gray will have a lot to say on the subject!
Notes
[1] Edward Gray, William Gray of Lynn, Massachusetts, and Some of His Descendants (1916), pp. 16–17, 19–21; Samuel Bradlee Doggett, History of the Bradley Family… (1878), pp. 22, 29.
[2] Hedwiga Regina Shober Gray diary, R. Stanton Avery Special Collections, 1861 volume, inside back cover.
[3] Ibid., entry for 17 January 1862.