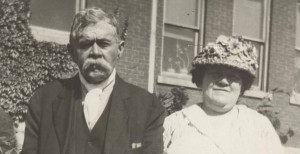 One day a few years ago, my mother (who was 85 at the time) got a phone call from a young lady who said "Hello, I think I'm your cousin!"  Mom, who was well aware of and always on the lookout for scams, immediately assumed that this was just one more.  The caller said that she was the great-granddaughter of my mother's father's sister, 'Louisa.' Mom, who knew all of her father's siblings, had visited the family regularly in Detroit when she was a child and never met or even heard of an aunt with that name. She very politely informed the caller that no, she was mistaken, there never was a sister with that name and she must have the wrong family.  The caller persisted and asked if she could send Mom some genealogical material that she had collected that would demonstrate her point.  My mother replied, "Well, sure, send it along. I'll ask my son, who works at a genealogical society, to take a look at it."
Mom then called me and warned me that I'd be getting some information from an apparent crank who was attempting to pass herself off as a member of the family.  About a week later, an envelope arrived with the information from the 'crank.'
The writer had done quite a lot of research to determine that her great-grandmother was a sister of my grandfather's, and enclosed copies of birth and death certificates clearly showing that she was indeed a member of the family.  She even enclosed a photograph of my Mom's grandfather (whom I had seen in many other photographs) with his daughter, the previously unknown sister.  It turns out that the mysterious Louisa had died a few months before my mother was born and was subsequently never mentioned again by anyone in the family. I called my Mom and told her that the writer appeared to be correct, that her father did have a sister named Louisa, and the proof seemed unimpeachable.
I examined the descendancy chart for the lost sister and noticed some names that I had heard from Mom's stories of her friends when growing up.  One of the names was a person who had recently called my mother to reminisce about the good old days, growing up in the 1920s.  The person was one of Mom's favorite playmates and lived next door. It turns out that the next-door friend was a child of the long-lost sister. His father had remarried and the friend had been only a year or two old when his mother died.
Before I met my new cousin (via email), I had very little information about Mom's family: basically, only the names of her grandparents and (some of) her father's siblings. Since working with my cousin we've made many additional discoveries based on sharing information we had assembled separately.
The moral of the story is that not all unbelievable stories are false and many can be established by good genealogical research.  (Although Mom always had a hard time believing that she had an aunt she had never heard of!)